Meet Tim Nguyen – JP Graphics Employee of the Month
The Ultimate Craftsman… that was the conclusion and reason why the management team selected Tim Nguyen as the employee of the month!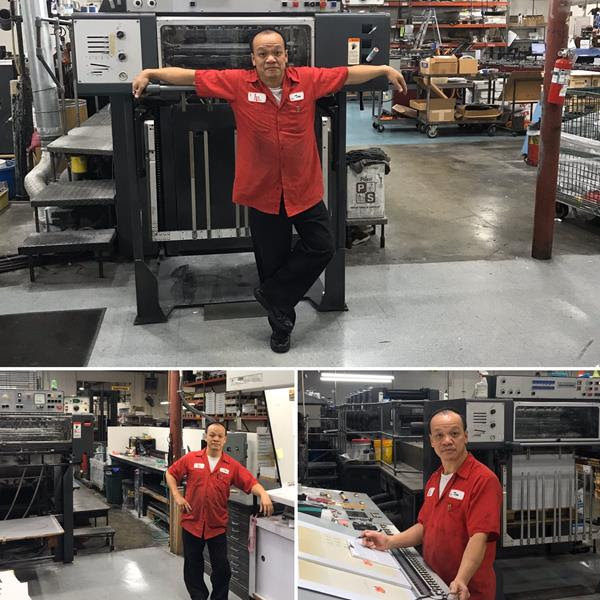 It was in November 2018 that Tim became the primary pressman, so it is fitting that November 2019 he was selected as Employee of the Month.  Tim grew up in the business always wanting to do more, and while he was never formally trained, he has consistantly been able to quickly adapt to every new task he is given.
Administrative changes at JP Graphics required our pressmen accountable for their work, in addition to maintenance and upgrading the machinery.  During this time, Tim took full advantage of learning how to operate and maintain all three of the Heidelberg presses that he runs – setting them up, and checking plates, papers, inks and due dates – he has masterfully managed his day to optimize production with increased quality.
Tim is also known for working well with all the other departments, he runs the right amount of 'overs' for Bindery, works with prepress to layout jobs in the most efficient manner, informs the Production Manager of needed inks and supplies, and most importantly helps the mailing department to assure layouts and indicia's are there and everything is sent on time.
Words describing Tim by the managers include:
Reliable
Committed
Fun and playful in the right ways (especially at the Holiday party)
Great attitude, and handles press checks with ease now
A true Team Player
Tim is one of the many reason why JP Graphics is one of the leading print shops in the Bay Area.  Thank you Tim for your "can do" attitude, and for always making sure our customers look great!
Map loading, please wait ...
JP Graphics, a full-service printing company, is certified woman-owned and a small business by the state of California and is a Bay Area Green Company. Located at 3310 Woodward Ave, Santa Clara, CA 95054, our 33,000 sq. ft. facility houses a state of the art prepress department, numerous offset and digital presses, a complete bindery, including lamination, and diecutting. Additional services include fulfilment, large format, and mailing. We deliver all over the Bay Area and ship all over the world.