Meet Tim Nguyen – JP Graphics Employee of the Month
For August 2021, the employee of the month is Tuan (Tim) Nguyen.  Tim has worked for JP Graphics since July of 2007.
Tim was hired to run the Heidelberg 102" press, during a time when training consisted of user manuals and admin manuals.  As we grew, Tim began to learn the Heidelberg 72 machines.  Later, as people retired and moved on, Tim became the primary pressman, operating all 3 Heidelberg presses, getting help from feeders.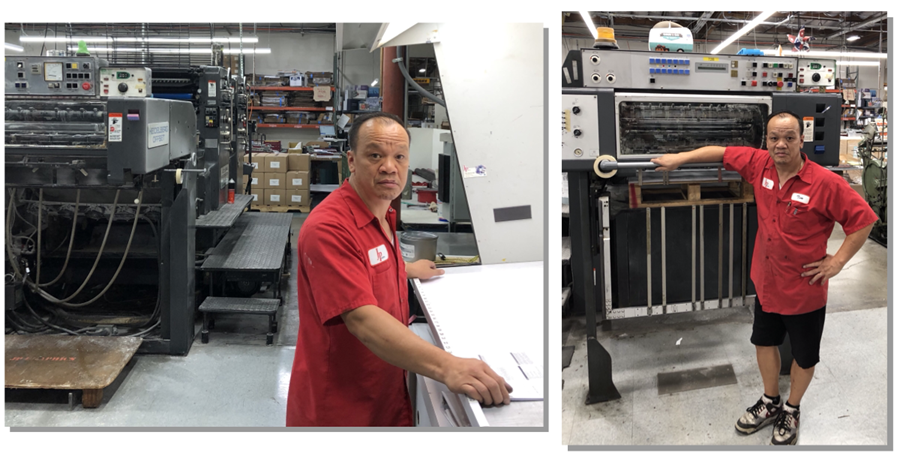 When COVID shut the world down, JP Graphics focused on Medical and Pharmaceutical packaging.   We also made a big move from our old "manual based" trainings and began to bring in repairmen and professionals to train and write SOP's on all of our machinery.
Tim took advantage of the opportunity and with the 1-on-1 information, he transformed into a master craftsman. Tim's capabilities grew to encompass the entire process from checking his plates before hanging, matching his papers, knowing and marking the densities of color, to watching the corner-to-corner registration.  With these new skills, Tim could take on any press check – including the ones the Salesman would do.
Tim consistently generates the same color results, produces just the right number of overs for bindery, and deals with the production timing, sometimes simultaneously running 2-3 presses… 1 printing, 1 putting on offline AQ for the HP prints, and 1 doing the medical/pharma IFU's or mass mailings.  Tim has become indispensable, and more importantly, he freely shares his newfound knowledge with the other team members.
The comments from the managers about Tim are truly telling of the amazing employee he is:
"Tim prints with bindery in mind – testing his prints to make sure the die-cutting and finishing will work. He is an all-around good guy, who works hard, pays attention to his press, and watches out for registration and marking issues." – Norbi
"He works with prepress before and after printing, to make sure that plates are made perfectly, and noting marks and guides for the finishing.  Plus, Tim is ALWAYS happy – even when running 3 presses!" – Dave
"Tim has truly stepped up his game here.  He pumps out work on all the presses, making sure that jobs are finished on time, and error free." – Joe
"He is filled with EXUBERANCE. Tim is always double checking his work, and the quality is bar none." – Debbie
"Tim is the very definition of loyalty.  His transformation to master craftsman, and desire to push the envelope and learn more is what makes him stand out.  I don't mind a press check these days, as when you ask Tim to move color, mark his wet readings, do a rule-out, he is all over it."  – Joan
Tim has really shown he works ABOVE the standards in our industry.  We are very lucky to have such a wonderful, hardworking, and fun-loving guy here.
Map loading, please wait ...
JP Graphics, a full-service printing company, is certified woman-owned and a small business by the state of California and is a Bay Area Green Company. Located at 3310 Woodward Ave, Santa Clara, CA 95054, our 33,000 sq. ft. facility houses a state of the art prepress department, numerous offset and digital presses, a complete bindery, including lamination, and diecutting. Additional services include fulfilment, large format, and mailing. We deliver all over the Bay Area and ship all over the world.