Meet Joe Haselman – JP Graphics Employee of the Month
The employee of the month for September could not have gone to better person, Joe Haslemann. Joe joined JP Graphics in 2012 and has spent his entire career in the print industry.  Joe's arrival occurred just as we started growing and expanding into digital printing and packaging operations, and he has been instrumental in our journey of differentiating ourselves from our competition.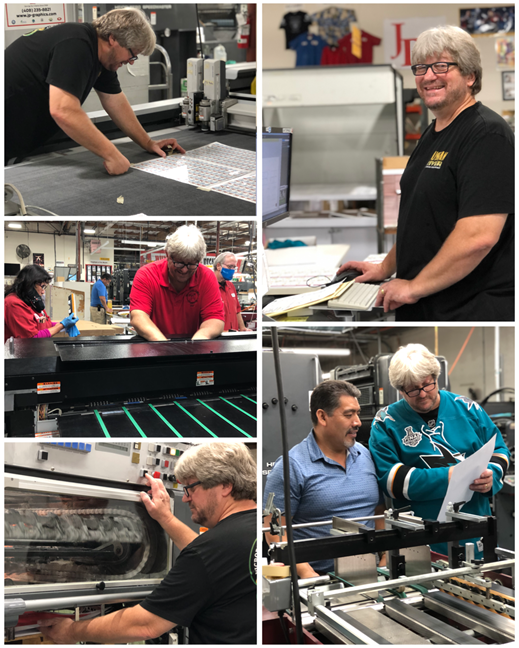 Joe has become our "go to guy" in all aspects of our printing operation.  He took over the production manager role, and began to coordinate the work between, prepress, press operations, digital, bindery, and shipping.  Joe created Standard Operating Procedures (SOPs) on all of our machinery, including identifying who is qualified to run each machine, who repairs the equipment when needed, and where to source supplies for each press.  Writing the operating instructions gave Joe a unique advantage to be the best team member in all aspects, from running laminators, to organizing and cutting papers.  Always humble, Joe is known for leading the way by lending a hand.
Our mission to change the way we think about print, has been fully embraced and employed by Joe.  He implemented cross training so that there are multiple operators and solutions for all the equipment, including our Xanté box printer. This has been a huge asset as organizations scrambled to ship packages and printed materials to their clients and employees during the pandemic.
JP Graphics has been able to move forward and prosper, in-spite of the pandemic thanks to Joe's dedication, reliability, and consistency.  The comments from the other managers, show how important Joe is to the company:
"Joe helps me out A LOT.  Laminating, cutting, getting parts and supplies gives me the bandwidth to finish up the products and get them out the door.  I rely on him too much." ~ Norbi
"Communication is so much better.   You just mention you need Zünd cutting or something in the morning production meetings, and it gets done." ~ Dave
"Joe is always helping someone somewhere.  He runs around the shop all day getting the most production through that he possibly can.  He then ends the day making the production schedule for the next day." ~ Debbie
"He is always helping, and so nice about it!" ~ Michele
"Joe just takes care of it." ~ Miguel
"I could not be happier with the trajectory of JP Graphics, and much of it has been because of Joe and the management team. Thanks Joe always lending a helpful hand, and always doing it with a smile." ~ Joan
And what was Joe's comment?  "I LOVE IT HERE"
Thanks Joe, for a job well done, and for helping make JP Graphics a great place to come to work.

Map loading, please wait ...
JP Graphics, a full-service printing company, is certified woman-owned and a small business by the state of California and is a Bay Area Green Company. Located at 3310 Woodward Ave, Santa Clara, CA 95054, our 33,000 sq. ft. facility houses a state of the art prepress department, numerous offset and digital presses, a complete bindery, including lamination, and diecutting. Additional services include fulfilment, large format, and mailing. We deliver all over the Bay Area and ship all over the world.