Winchester Mystery House – JP Graphics Print Partner of the Month
JP Graphics prints for a lot of interesting and unique businesses and this month's featured print partner is the historic Winchester Mystery House! 
This San Jose landmark is already decorated for Halloween, and they have an amazing line-up of activities for fall!
Starting with All Hallows' Eve, a new seasonal special event.  This event features a "Lost In The House Tour", touted as a "theatrical paranormal investigative adventure".  Brave guests will be guided through the dark & dizzying hallways of the Winchester Estate in search of answers… will you find them, or will the house's secrets remain untold? Tickets also includes a family-friendly Jack O' Lantern Trail through the Victorian gardens.
To get even more in the spirit, all event Guests — including adults — may dress in their favorite Halloween costume! (As long as it meets their guidelines.)
They also offer Axe Throwing!   It's the perfect way to bury the hatchet after stressful week of work, and experience the thrill of throwing axes at targets! They'll coach you on how to become a true "axe-pert" before you compete against your friends or family to see who can hit the bullseye!   You can even book a group event for a great team off-site or get together.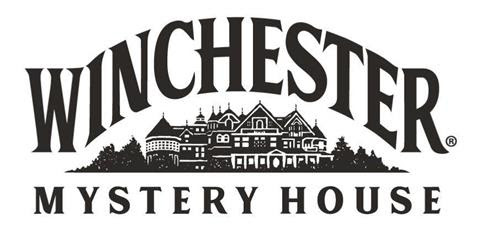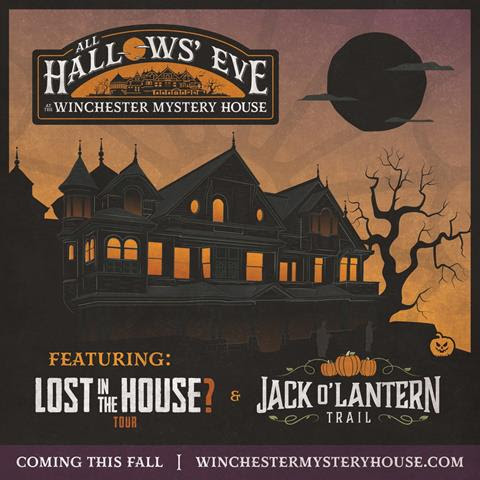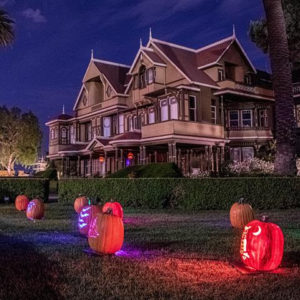 SPECIAL OFFER!
Use the code "5OFFMNSN" and get $5 off mansion tour tickets for each adult or child ticket purchased.
(Offer expires 12/31/22)
Plan Your Visit and don't forget to use the JP Graphics discount!
Winchester Mystery House Brochure
We've printed the brochures you receive when you visit. So be sure to take one to learn more about the history of the house, and use the map to help you navigate the grounds!