Meet Dave Mclintock – Employee of the Month
You know that you have a special management team when they select back-to-back managers for the Employee of the Month. I could not be happier that it was Dave Mclintock.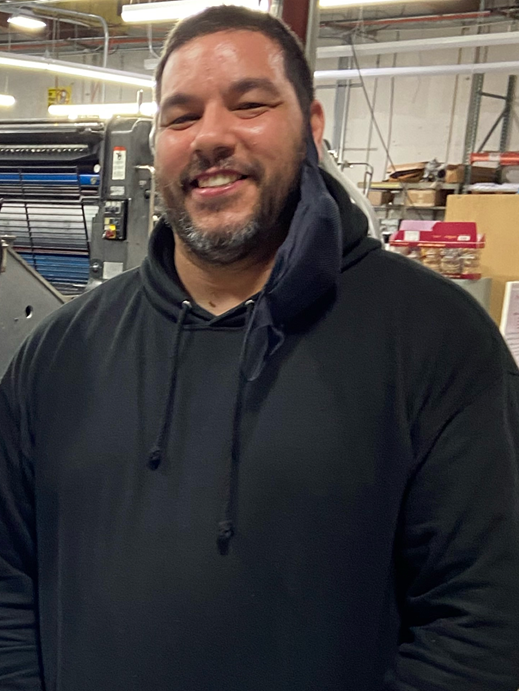 Dave has worked for JP Graphics since March 2006 in prepress and has been on every installation of all of the new machines we have from the HP10000 to the Xerox  Iridesse  Press, to the Xanté , X33, Nobelus Sleeker, Duplo Dimensional Spot UV Coater, and Zünd digital die-cutter.
Dave has truly grown up with JP Graphics and made us one of the most diversified printers in the area.
This July, his expertise and willingness to learn became crucial as we added in-house mailing to our arsenal of offerings. Dave knew how to set-up the files and such for inkjet and mailing, but when the manager had to leave suddenly to go back to Korea, Dave was left with figuring the mailing department out, and is making it work while we find a replacement.
Dave has been especially crucial in making the finished products look fantastic on our embellishing devices, which helped us win a Benny for an invitation we did 5 years ago.  His ability to figure the traps, crossovers and cutting die layouts, have let us be the leader in prototyping in Silicon Valley, where a client can quickly see a first article proof before they get the entire project.
What we are most fortunate about, is that Dave loves to work.  He comes back to work at nights and over the weekends, to make sure files are updated and that production goes smoothly.  His not needing sleep might be related to his love of Starbucks, but we'd like to think it's because he loves his job.
Dave has been like family, in spite of all my crazy ideas – signage for my kid's graduations, invites for any function I am throwing, and now labels for Idyll Time Wines!  He will always TRY to make things work.
Most of all Dave is a TEAM player. He is the heart and soul of the printing company; and included on almost all e-mails. He touches all new jobs, collaborates on layouts and identifies presses to utilize, and most importantly saves every inch of paper on a sheet – he even used the remnants when paper was in short supply.  You can see by the manager's comments why Dave is the HEART of JP Graphics.
"Dave helps with all the problem files, tries to educate the clients on how to set-up files, and deals with the difficult jobs. He JUST GETS IT DONE!" ~ Miguel
"Dave has a great attitude, is a great team player and great leader who likes teaching others." ~ Michelle
"Dave has helped me with the mailing and enabled me to be with my wife when she needed me. I felt guilty leaving, but I know Dave can take care of it." ~ George
"Dave works his butt off!" ~ Debbie
"Dave checks with me on die-cutting before dies are ordered, checks the cuts and works on the Zünd. He makes my job easier. So much improved." ~ Norbi
"Dave lets me be crazy, imaginative, sees the possibilities I see.  Plus, he is like family and even on my boys' group chats. He never lets me waste a sporting ticket and never lets me down.  He even comes in to open the door for us if I leave my keys!" ~ Joan
We are so lucky to have Dave here at JP. Thanks for all of your hard work making sure our client's ideas come to life via print!
Map loading, please wait ...
JP Graphics, a full-service printing company, is certified woman-owned and a small business by the state of California and is a Bay Area Green Company. Located at 3310 Woodward Ave, Santa Clara, CA 95054, our 33,000 sq. ft. facility houses a state of the art prepress department, numerous offset and digital presses, a complete bindery, including lamination, and diecutting. Additional services include fulfilment, large format, and mailing. We deliver all over the Bay Area and ship all over the world.