Goode's Goodies – JP Graphics Print Partner of the Month
JP Graphics prints for a lot of interesting and unique companies which offer some cool and useful products and services.  This month we are featuring Goose's Goodies!
Goose's Goodies, a great Santa Cruz company, was founded on their family traditions of love, laughter, and of course food.

For owner Marci Prolo's family it was always clear that no meal was complete without dessert.  Their traditional toffee would be brought out, exciting the children with its savory temptations and wowing the adults with caramel grandeur.
Having been blessed with the cooking abilities of her mom and business mind of her dad, Marci took the family recipe, and combined it with own sass and artistic twist, and a whole lot of leopard print.  The end result became Goose's Goodies-a decadent avert made for family, friends and epicures' alike.
With flavor combinations from Dark Chocolate, Candied Orange, Pistachio & Black Pepper to White Chocolate, Coconut, Cardamom & Ginger, there is something for everyone on your holiday gifting list.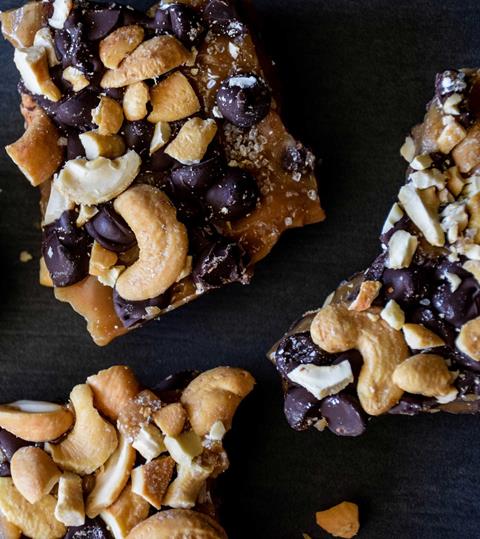 They even have a paring list, so you know what toffee goes best with your dish!  Marci will be at our Idyll Time Release Party Halloween weekend to answer any wine and toffee pairing questions too!
Goose's Goodies is sure to spread sweet toffee love to whomever it reaches.  Straight from Marci's family kitchen to your home or business you will surely find that one bite is just never enough.
Meet Goose's Goodies at the Idyll Time Wines Release Party!
Join JP Graphics & Idyll Time Wines Halloween Weekend as we combine a passion for wine with the power of print at the Idyll Time Wines 2020 Release Party.
Kids will receive a free pumpkin grown by our very own Pumpkin King!
Door Prizes include San Jose Sharks Tickets, Golden State Warriors Tickets, Elements Massage Gift Cards, Gift Baskets, and more!   
Map loading, please wait ...
JP Graphics, a full-service printing company, is certified woman-owned and a small business by the state of California and is a Bay Area Green Company. Located at 3310 Woodward Ave, Santa Clara, CA 95054, our 33,000 sq. ft. facility houses a state of the art prepress department, numerous offset and digital presses, a complete bindery, including lamination, and diecutting. Additional services include fulfilment, large format, and mailing. We deliver all over the Bay Area and ship all over the world.