Meet Greg Hernandiz – JP Graphics Employee of the Month
One of the surprising things we have learned now that we're on the recovery side of the pandemic, is how much more production capacity we have at JP Graphics.
We are producing more print and packaging jobs than ever – both digital and offset.  Plus, our new mailing service additions and the X33 box printer have increased the shipping and deliveries we do each day.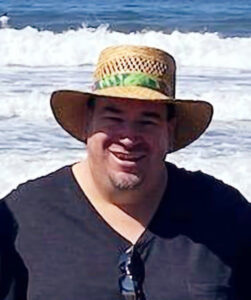 After our Shipping Manager, Miguel Ojeda, was selected unanimously in July, it would not be long until his driver/helper, Greg Hernandiz would be selected for his help. He has been instrumental in our success, and routinely performs ahead-of-schedule deliveries!
With a start date of November 2021, Greg is fairly new at JP Graphics.  After a long time out of the workforce, while caring for his Father, he was referred to us by our designer friends at Shanti Art Design.
We could not be happier having Greg on our team.  He had experience as a driver before, and he knew the Bay Area well.  Greg is such a friendly, easy going person, and works well with Miguel. He makes sure our jobs are packed up, loaded in vans, and ready to go, and has increased our loops to 3 times a day.
Greg is personable, and has befriended all of the receivers.  He makes  all of our deliveries a nice experience.  He not only delivers the jobs to receiving docks, receptionists, hotel lobbies, and convention centers, he makes sure the requestor knows the product is there, informs the recipient what product it is, and helps make sure the delivery is organized so it doesn't get lost even at a Stadium.
You can always find Greg working. Loading his truck, packing out boxes for deliveries, shipping, and matching memos with dockets.  Which is why the comments from the managers were nothing but stellar:
"Greg and I work so well together.  He is getting it all down, the routes, the customers, the OT View system, he's even mastering Fedex and UPS.  Greg is on the ball.  He returns from his delivery loop quickly so we can make more deliveries in a day, and is always willing to help get that last delivery on the truck, so he can head out." ~ Miguel
"Greg does a very good job.  Comes in early and gets to work right away.
Debbie:  Greg really helps with shipping – even the stores.  He gives the copies of the memos and is so friendly and conscientious." ~ Norbi
"Greg has such a great attitude.  He is so pleasant and helpful." ~ Joe
"We definitely added a superstar to our roster with Greg.  Productivity has gone up so much because of the Shipping Department.  He is truly representing JP Graphics with his friendly and helpful demeanor. He even helps me with Idyll Time Wines – delivering to restaurants and helping get more business." ~ Joan
What a great way to end the 3rd quarter of the year! Thank you Greg for all you do, and congratulations on your selection of September's Employee of the Month.
Map loading, please wait ...
JP Graphics, a full-service printing company, is certified woman-owned and a small business by the state of California and is a Bay Area Green Company. Located at 3310 Woodward Ave, Santa Clara, CA 95054, our 33,000 sq. ft. facility houses a state of the art prepress department, numerous offset and digital presses, a complete bindery, including lamination, and diecutting. Additional services include fulfilment, large format, and mailing. We deliver all over the Bay Area and ship all over the world.