Meet Chang B Cho (Joe) – JP Graphics Employee of the Month
It's Thanksgiving week and what better way to start off the holidays than to thank our latest employee of the month!
It was unanimously decided that one of the most important people we have, who flies under the radar, but we could never live without, is Chang B Cho (Joe)  – our mailing GURU!  He's also responsible for helping distribute our Print It – Love It – Share It print marketing collateral!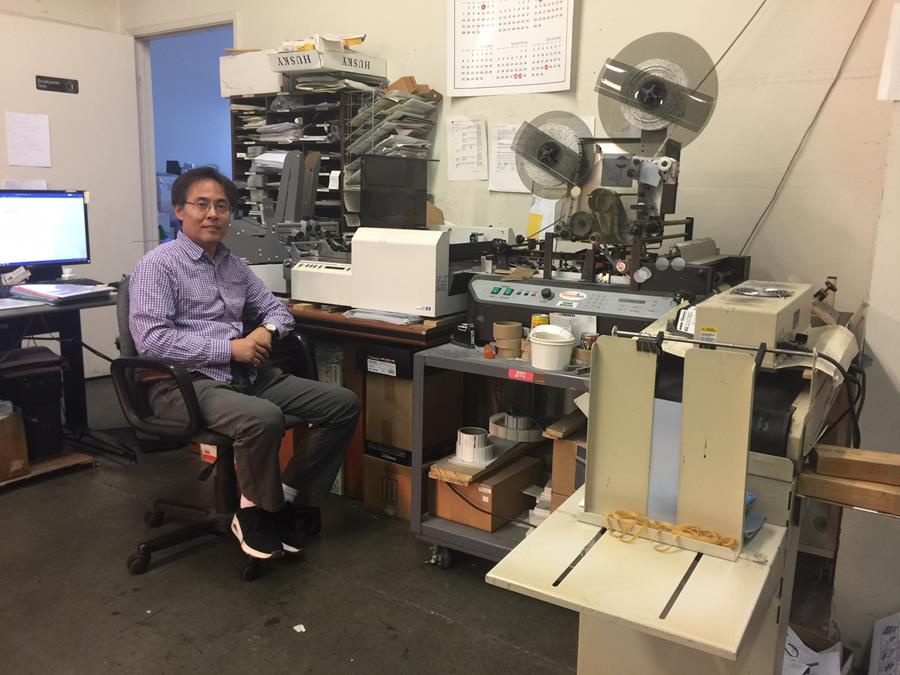 Why he was never picked previously, we all do not know.  Chang has been working with JP Graphics since 2000, helping us out in any function we needed, but primarily in our mailing department.  Chang has become so vital to our operation, that any mailing job is sent to him to determine HOW we should run it, to ensure there are NO mistakes in the mailing.  Chang's attention to detail has really helped us become one of the premiere quick print and mail facilities in the area.
Here are some of the comments from the managers:
Chang works closely with production for mailings so nothing is sent late.  He never allows jobs to get missed, as he even checks with the pressman to make sure the jobs are coming off the press properly for inkjetting and finishing.
Chang is vital to the small mailing jobs, often doing letter with Variable Data addressing on the mailing copiers, to make sure they are turned quickly. Always catching that the correct indicia is used (1st Class or Standard Mail) and making sure that the mailing panel is on the correct size for postal regulations. We have never had to remail anything under his watch.
Chang is also a bindery specialist, and jumps in and helps with folding or stitching, wafer sealing, or anything else his department can do to help ease the pressures on Bindery.
It's so easy to complete jobs that require mailing, as once Chang is on the job, it goes through production swiftly and mails on time! PLUS he brings Donuts!!!  Chang is always keeping everyone on their toes and happy with a weekly sweet treat.
When JP Graphics was small, Chang was there to help wherever he could.  I remember one time, he stayed into the night helping an electrician put wiring throughout the building, up on a ladder feeding the wires!  Our growth and success is largely due to the contributions of Chang and his entire department!
Map loading, please wait ...
JP Graphics, a full-service printing company, is certified woman-owned and a small business by the state of California and is a Bay Area Green Company. Located at 3310 Woodward Ave, Santa Clara, CA 95054, our 33,000 sq. ft. facility houses a state of the art prepress department, numerous offset and digital presses, a complete bindery, including lamination, and diecutting. Additional services include fulfilment, large format, and mailing. We deliver all over the Bay Area and ship all over the world.