Meet Mary McLaughlin – JP Graphics Employee of the Month
Congratulations to Mary McLaughlin, the recipient of our November Employee of the Month award.
Mary has worked with JP Graphics since May 2005, and this is her fourth Employee of the Month award since our program started in 2017!  She has every quality you want in an employee.  She is reliable, competent, conscientious, caring, and dependable, the list could go on and on.
The competition for Employee of the Month was steep this November, and we ended up with a three-way tie, with Norbi picking a fourth nominee!  Manager nominees and comments were as follows:
"Mary continues to knock out work. She has learned the small laminator, is a team player, and just gets it done, day in and day out." – Joe
"Norbi, because of the amount of work he does, and he comes in weekends." – Dave
"Debbie for her help with decorating for holidays. Plus, she can always find dockets." – Michele
"Mary for her dependability. She always verifies here work with CSR and will always try and learn new things. She's such a team player." – Debbie
"Norbi, because he gets it done! He is the best manager you could ever want in bindery.   His quality is bar none and has taken us into packaging with incredible strength and determination." – Joan
"I nominate Debbie… because she kicks a**." – Miguel
So, we had a 3-way tie, with Norbi's decision to be the determining factor.  When we spoke to him after the meeting, listing who everyone chose and why – including himself – his answer really summed up the greatness of himself AND Mary. Without a second thought, he blurted out: "Mary – Because she helps me do my job!"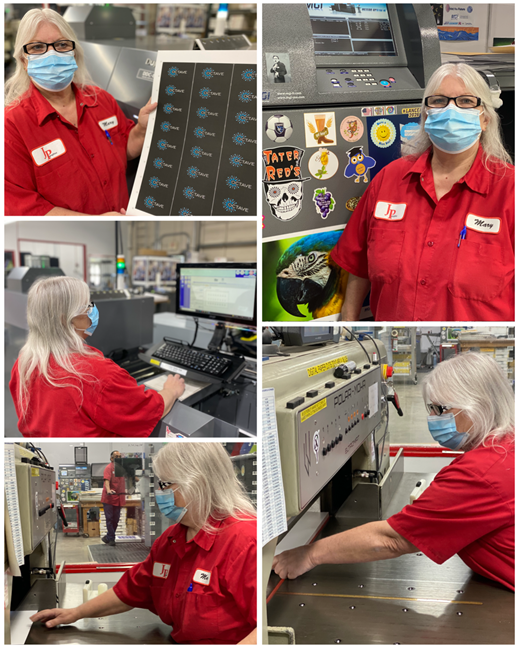 Norbi went on to say that Mary helps him by putting the completed jobs off her machines to exactly where they need to go.  (Lamination, cutter, wire-o, etc.)  He said Mary makes his life easy by telling him when the job is completed. Which is especially important for our rush projects.  He knows that Mary's work is always checked, so he doesn't have to worry about double checking (although he still does) to make sure the cut and back up are correct.
When we joked that he lost out on making the $250 bonus, he said, "Mary is worth way more than that to me, give it to Mary!"
Joan adds, "Mary is truly a great help to me, and I'm glad she's receiving this honor.  She helped me with the thankless job of getting the papers cleaned up and organized and made sure they were used on jobs so we could make more room in the shop.  She did a great job and then some!"
Congratulations Mary on a job well done, the competition was tough but once again you rose to the challenge.  Keep up the great work.

Map loading, please wait ...
JP Graphics, a full-service printing company, is certified woman-owned and a small business by the state of California and is a Bay Area Green Company. Located at 3310 Woodward Ave, Santa Clara, CA 95054, our 33,000 sq. ft. facility houses a state of the art prepress department, numerous offset and digital presses, a complete bindery, including lamination, and diecutting. Additional services include fulfilment, large format, and mailing. We deliver all over the Bay Area and ship all over the world.