Meet Mark Stovall – JP Graphics Employee of the Month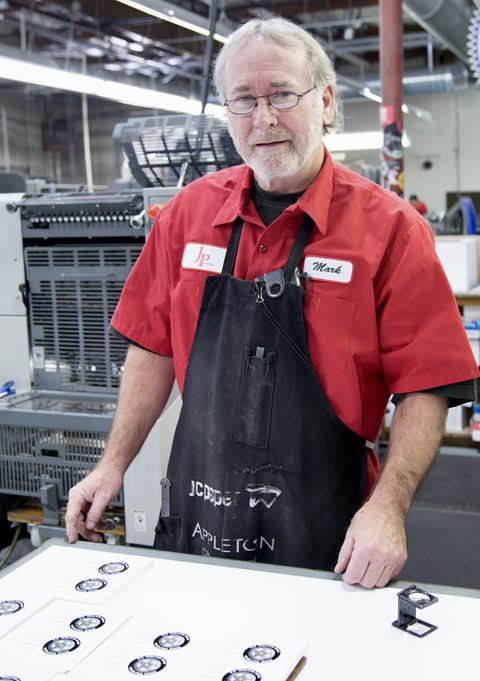 We're thrilled that Mark Stovall was chosen as our Employee of the Month for March.
Mark began working here in November of 2014 and is a true craftsman!
He has completed some amazing stationery projects on small presses that we normally wouldn't try.
His coverage, consistency of color, and registration is bar none, and thanks to Mark, we are able to do our registered finishing embossing and foils, with perfection!
Mark is more than a pressman; he is also a valued team player.  As you can see from the following comments provided by our Senior Staff:
Mark offers a hand wherever it's needed… helping Tim feed on the 72", filling plates, rearranging and organizing the inks, to cutting papers!
He watches the due dates, taking into account dry times and additional cutting, so that we can make the deliveries on time with Zero rejections – especially the GSW cards that are so critical.
Mark has truly showed us what it means to be a craftsman.  He is neat, organized, conscientious. Every job is meticulously printed to the specifications, with CONSISTENT color throughout, even on the difficult full solid bleeds on the back.
I would never had thought of putting these difficult jobs on a small press until I met Mark.  He has pushed his press to the limits of papers, without any complaints.
Mark has taught us much about print, inks, papers, and QUALITY, and we couldn't be prouder and more ready to take on the unique, and difficult jobs thanks to his skills and knowledge.
Mark is the epitome of the JP way. Combining old world printing, with the new world of print to help our customers stand apart from the marketing noise.
We look forward to him working with our interns this summer to teach a new generation the passion and craftsmanship of print, and how it can make businesses successful while improving their Marketing ROI.
Map loading, please wait ...
JP Graphics, a full-service printing company, is certified woman-owned and a small business by the state of California and is a Bay Area Green Company. Located at 3310 Woodward Ave, Santa Clara, CA 95054, our 33,000 sq. ft. facility houses a state of the art prepress department, numerous offset and digital presses, a complete bindery, including lamination, and diecutting. Additional services include fulfilment, large format, and mailing. We deliver all over the Bay Area and ship all over the world.