Meet Miguel Ojeda – JP Graphics Employee of the Month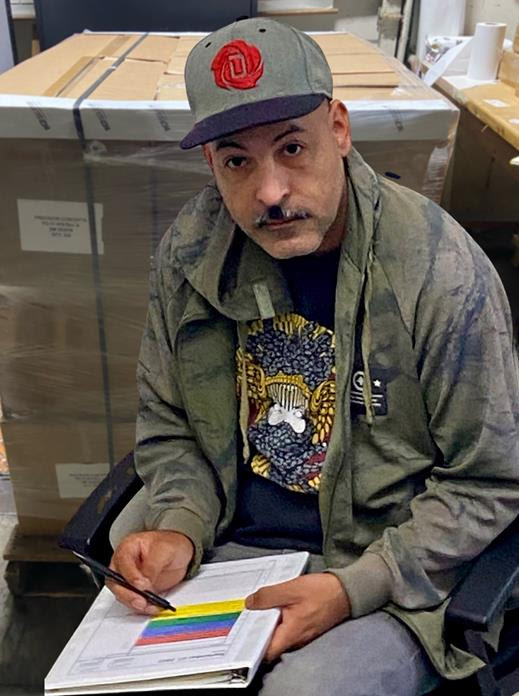 Things are finally back on track at JP Graphics. There were a lot of lessons to be learned from the COVID pandemic, and the most important was that our ideal client is medical / pharmaceutical printing and packaging.
However, to accommodate their strict ISO regulations, on time delivery requirements, and precise shipping, you have to have a team that really understands how important it is all the way down to the paperwork.
So, I could not be prouder that Miguel Ojeda was selected as our Employee of the Month for July 2022.  Miguel started working for JP Graphics in September of 2014, as a delivery driver.  He has truly grown into the position of Shipping Manager and our final Quality Control check.
When I asked Miguel to take a bigger position and help increase output, by following up on our Production System–OT View, he was hesitant to accept the role, thinking he had to know more about the print.  Once he found out it was a process and systematic approach, he quickly mastered it.  He excels at getting our production times reduced. He has improved our on-time medical / pharmaceutical deliveries to 100% and ensures our shipments are packed out and labeled perfectly so that the strict receiving departments of fulfillment centers have nothing to complain about.
Miguel quickly defines the difference between what we ship versus what we deliver via our trucks.  He assesses the schedule board at least three times a day, ensuring that the product is in production when it needs to be.  Often getting them completed early to make a delivery route packed with as many deliveries that are on the same route.
He is conscious of the cost of fuel and securing the contents of each package to ensure the products inside remain intact. Selecting reinforced boxes, strapping pallets, applying corner guards, and most importantly picking the carrier that will get it there on time! Miguel has even come in on weekends to personally deliver for a trade show and coordinated shipments to six locations in San Francisco for other events.

His ability to learn new apps and master our Management Information System (MIS), has made everyone here "up their game".   Miguel's meticulous follow-up has saved countless jobs that could have slipped through the cracks in a busy day here.  The team now routinely checks on their proofs, and enters projects into the system, so everyone is aware of the progress without having to ask.
Working well with everyone, Miguel truly demonstrates what it means to be a team player.  Just from the comments from the managers, you can see how invaluable Miguel has become:
"Miguel texts and communicates with me constantly. He makes sure we 'Get it Done', so he can deliver it." ~ Dave
"It is so helpful to have someone give me a time so I can coordinate the staff to get the bindery done to make the delivery route." ~ Norbi
"Miguel gets the paper and will-call orders swiftly and brings them over to the presses, so more production can be done in a day.  He also reminds us of due dates, so nothing slips." ~ Joe
"He does a really good job with deliveries and shipments, so everything arrives on time and undamaged." ~ Debbie
"Miguel is smart and tough. He is teaching me FedEx and shipping and is so fast at weights and measures and entering a package in the system." ~ George
"Miguel has truly made me better.  He doesn't let me slide when something wasn't done to the process.  He helps me stay in touch with my proofs and outstanding work.  He has relieved me of the countless requests for POD's and inspires me to sell more.  When I see Miguel's name on an e-mail, I know he will respond, which enables me to move on and get more done in a day.  I literally prepare more as he holds me accountable." ~ Joan
We are so lucky to have Miguel pushing this train forward.  Thanks to his help we are going places.

Map loading, please wait ...
JP Graphics, a full-service printing company, is certified woman-owned and a small business by the state of California and is a Bay Area Green Company. Located at 3310 Woodward Ave, Santa Clara, CA 95054, our 33,000 sq. ft. facility houses a state of the art prepress department, numerous offset and digital presses, a complete bindery, including lamination, and diecutting. Additional services include fulfilment, large format, and mailing. We deliver all over the Bay Area and ship all over the world.