Meet Norberto Gonzalez – JP Graphics Employee of the Month
How fitting that we are establishing a length of service program this year, and our December employee of the month, Norberto (Norbi) Gonzalez, is celebrating 20 years of service at JP Graphics this February.
As our bindery manager, Norbi is taking us from simple score and fold capabilities to saddle-stitching, die-cut and glue, and perfect binding.  Thanks to him there is almost nothing we cannot do.  He understands and can operate all our equipment and helps keep our older machines in tip-top shape.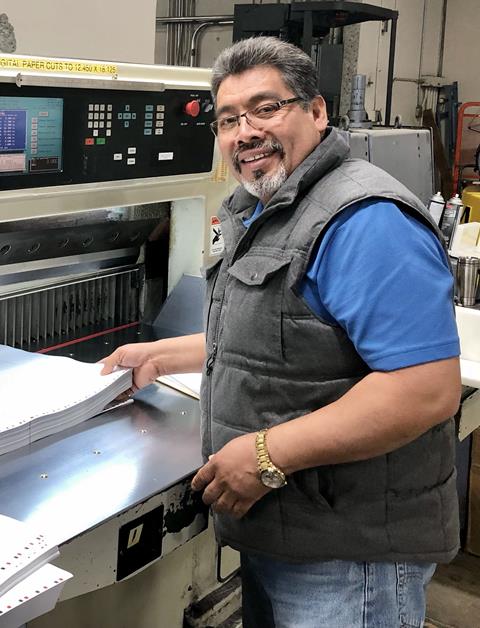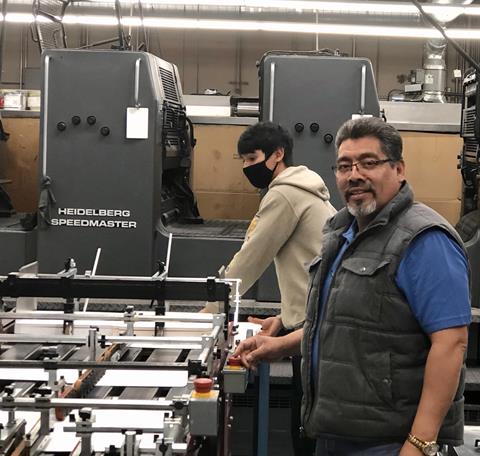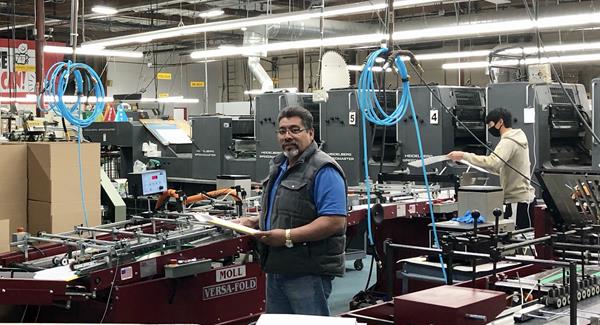 Norbi is the true definition of an ideal employee. His list of attributes includes Stability, Reliability, Quality, Consistency, Productivity, and Ingenuity.  I will never forget taking him to the print show and watching him find and select the Horizon score/creaser.  It has been a game changer here.  I was looking at a pharmaceutical folder, and upon seeing the machine in action, I agreed. We have increased production every day because of this purchase.
As we move into packaging and more intricate jobs, it has become more and more apparent, that we must start at the bindery (finishing) and work our way back to make sure that each job is completed to specification.  Norbi has become instrumental in setting the standards of grippers, guides, grain direction, and folding vs. chop cutting.  His influence has helped shape the guidance of bindery for digital – including requiring offline AQ's to protect the product in bindery and shrink-wrapping to protect the product in shipping.  He runs his department so efficiently they never miss a deadline, whether that be the use of machines or human man hours, Norbi gets the job done!
Here are just a few of the comments:
"Norberto manages one of the best in-house bindery departments I have ever been associated with in my 40 years of printing!  I'm always amazed by how quickly he gets job finished! His bindery knowledge and attention to detail shines throughout his whole department! The pride he takes in his work, as if it was his own company is unsurpassed! It's an honor to work alongside Norbi on a daily basis!" ~ Joe
"Norbi has the dedication and expertise above all others, and he communicates very well with sales, customer service, and production to get the jobs done." ~ Debbie
"I nominate Norbi, as he is always here, reliable, and works weekends too.  He is a model employee." ~Michel
"Norbi gives me the guidance I need, including giving input on layouts, so everything comes out perfectly. Production has increased as he approves the various layouts before dies are ordered." ~Dave
"We work together very well. Norbi gets the jobs to me early so I can put them on the delivery routes to save the company time and money on gas by consolidating deliveries.  He makes my job easier." ~Miguel
"Norbi has been family to me. He loves this company just like I do, and he "gets it". Norbi is a great manager, and his entire team is well trained, and take excellent care of their equipment – everything still looks like new. Plus, Norbi doesn't mind the fact that I keep pushing our capabilities. We are currently installing 2 Kluge presses that will increase our foil stamping, embossing and die-cutting capabilities!" ~Joan
JP Graphics has earned our reputation for quality thanks to employees like Norbi. He truly loves our company and is happy to share his print knowledge with a new generation.  Thank you Norbi, for an amazing 20 years, and we look forward to many more with you leading the way.

Map loading, please wait ...
JP Graphics, a full-service printing company, is certified woman-owned and a small business by the state of California and is a Bay Area Green Company. Located at 3310 Woodward Ave, Santa Clara, CA 95054, our 33,000 sq. ft. facility houses a state of the art prepress department, numerous offset and digital presses, a complete bindery, including lamination, and diecutting. Additional services include fulfilment, large format, and mailing. We deliver all over the Bay Area and ship all over the world.