Meet Julio Mendez- JP Graphics Employee of the Month
Numbers don't lie, so it was an easy choice to pick the employee of the Month for October 2021, Julio Mendez.
Julio started working for JP Graphics in November of 2015 when we were adding our Xerox 1000i.  When we added the HP Indigo 10000 (Series 4) Digital Press, Julio became instrumental in our success of high-production digital printing.   The addition of the HP caused our digital production to rise to over 60% of all print sales.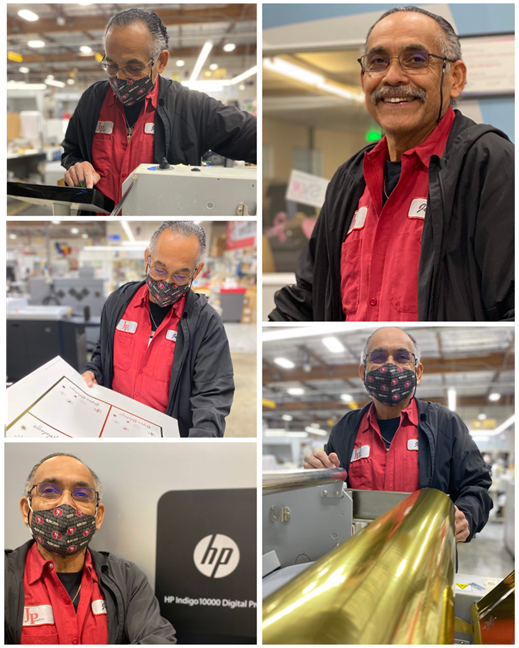 We created an entire room for the HP, which Julio affectionately calls the BEAST.   When we added more packaging, the tides turned back, and we currently have a comfortable 50-50 mix of digital to offset printing.
The month of October, proved to be incredible with over 700K color impressions and 250K Black and White impressions. Julio was beyond busy. With over 10-million impressions this year, Julio is up 58% from last year! Julio's ranking as a HP Series 4 operator is beyond reproach.  All counted matrixes are up, from volume, to press availability, to low technical issues. However, the one that is most impressive results is his supplies ranking.  Thanks to Julio's proficiency at the machine and our use of GPA stocks, Julio is at 124%!  This means he has very little waste and uses the needed supplies to the fullest. HP loves him too!
Julio Runs the Nobelus Sleeker at JP Graphics
Julio runs the Nobelus Sleeker, which has resulted in award winning print projects.  Nobelus even asked JP Graphics to do their holiday cards, as no one has pushed the machines capabilities and succeeded, as much as Julio has!
Aside from all his capabilities, Julio is just a good person, he is reliable, easy to get along with and dedicated.  Comments from the Managers include:
"Julio gets it done. He will work overtime, nights, and even weekends to make sure the jobs are completed on time. Just look at the numbers." ~ Dave
You can set a watch to him; Julio is that consistent." ~ Michelle
"The amount of work he does, putting in the long hours, while caring so much about his quality.  You can count on Julio to get it done." ~ Debbie
"Julio is quality conscious. He checks his work, troubleshoots to make sure every job comes out like planned, catches production issues before he runs, and saves Bindery tons of headaches." ~ Joe
"We are so lucky to have an employee that cares so much about his work and the company.  The Success of the HP 10000 here is directly attributable to Julio.  We could not have achieved any of our successes without him." ~ Joan
Thank your Julio for giving your all and helping get JP Graphics noticed through award winning print products and production numbers.  We're so lucky to have you on our team.