Meet Freddie – JP Graphics Employee of the Month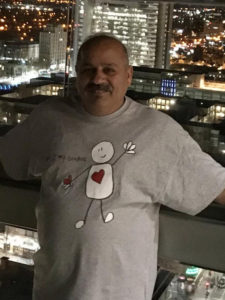 Fans of "Breaking Bad" know when you have a problem you "Better Call Saul".  At JP Graphics, when something goes wrong or you need something done, we know we "Better Call Freddie".
Freddy Alkakos (aka Freddie), the owner of Milpitas Restaurant Equipment and Repairs, started working at JP Graphics in 2016 as our facilities maintenance person.  Initially, he primarily worked weekends, however we quickly learned he could fix anything.
Freddie is an expert when it comes to saving costs by repurposing materials; and he has a talent of acquiring hard to find items to get the job done.  He quickly gained a reputation as Mr. Fix-it.  We now call him for all our machinery repairs and specialty supply orders.  Plus, thanks to his "day job" he always manages to bring some amazing food from whatever restaurant he is helping!
Last year was rough for sales, but thanks to Freddie, it was great for our accomplishments!   He set up procedures for our ink waste and implemented a Maintenance Room for tools and supplies for our teams.
Freddie also supervised the wrapping of our dock doors, and as soon as the wraps were up, he began painting the exterior by himself!  He also repaired and numbered all the dock doors.  Giving our shop a much-needed facelift, and creating new business by showing anyone who drives by what our printing company can do for them!
Freddie is an army of one, and you can see how everyone relies on him with these comments from the managers:
"Freddie's work on the Holiday Party was incredible! He BBQed and sourced materials to create a socially distant party that was COVID-19 compliant!  He even stayed late to help Joan work on the games.  It was a complete success and morale booster for our team." ~ Dave
"From acquiring tools for the bindery machines to putting in air hoses, I just call Freddie and it is done.  Knowing it is in Freddie's hands helps me focus on the demands of the bindery department." ~ Norbi
"Freddie was instrumental in helping me organize the front office, including archiving our old files." ~ Michelle
"I still can't believe that Freddy painted this whole building by himself.  His organization of the Chemical Room was incredible." ~ Joe
"I am thrilled at how amazing JP Graphics looks thanks to Freddie.   Our shop is clean, organized, lean, and mean.  I just make a call and ask for something to be done, and it is done better than I could have imagined.  I can only imagine how far we would be if Freddie had been working with us from the beginning.  Having Freddie taking care of the building helps me feel more empowered to focus on what I do best, going out and bringing in sales." ~ Joan
For the above and so much more, we LOVE Freddie!!!  (He is so much better than Saul!). Thank you, Freddie, for all your hard work!

Map loading, please wait ...
JP Graphics, a full-service printing company, is certified woman-owned and a small business by the state of California and is a Bay Area Green Company. Located at 3310 Woodward Ave, Santa Clara, CA 95054, our 33,000 sq. ft. facility houses a state of the art prepress department, numerous offset and digital presses, a complete bindery, including lamination, and diecutting. Additional services include fulfilment, large format, and mailing. We deliver all over the Bay Area and ship all over the world.