Meet Norberto Gonzalez – JP Graphics Employee of the Month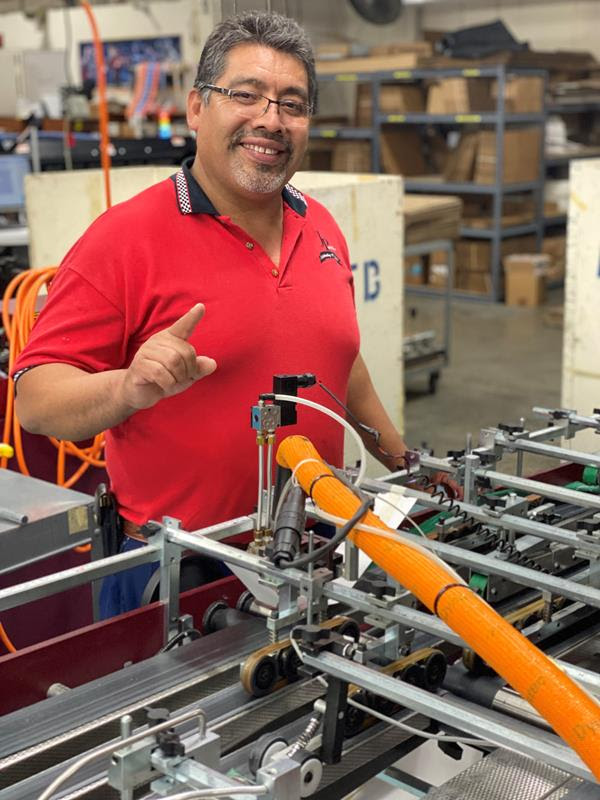 Our bindery manager, Norberto Gonzalez (Norbi), has been a vital contributor to JP Graphics' growth and success since February of 2002.
Our bindery department worked non-stop on packaging this summer.  Norbi and his team leveraged our die-cut and gluing machines to create unique packaging products for our customers. Including a die-cut envelope with zip cord closure for Yubico, and 135K die-cut pudding jar holders for Petit Pot.
Working on these new packaging capabilities made for long days and we pushed our capabilities to new levels.
Here are some of the comments from the managers:
"Norbi is the BEST Bindery Manager I have ever worked with!"  – Joe
"He works well together with Prepress to figure out best and most efficient ways of running jobs here." – Dave
"He is consistent, never complains, and is always reliable." – Michelle
"He coordinates with shipping to get jobs done, which saves money on gas and  delivery times."  – Miguel
"Norbi manages his team well.  He's dedicated.  Quality is job one.  It's unbelievable the amount of work he gets done in a day." – Debbie
"Packaging is the future of print.  Since Norbi has taken over the die-cut and gluing, we have had tremendous success. His willingness to push the limits and capabilities of the machinery, gives us an edge on the quick-turn packaging market." – Joan
Thank you Norbi, for your willingness to do what it takes to get the job done right.  You have helped bring our quick-turn 'niche' packaging capabilities to the forefront of JP print offerings.

Map loading, please wait ...
JP Graphics, a full-service printing company, is certified woman-owned and a small business by the state of California and is a Bay Area Green Company. Located at 3310 Woodward Ave, Santa Clara, CA 95054, our 33,000 sq. ft. facility houses a state of the art prepress department, numerous offset and digital presses, a complete bindery, including lamination, and diecutting. Additional services include fulfilment, large format, and mailing. We deliver all over the Bay Area and ship all over the world.