Meet Michelle Del Rey – JP Graphics Employee of the Month
It is with great enthusiasm that the employee of the month was given to Michelle Del Rey for the month of November.
The pandemic slow-down allowed us to experience Michelle's office management talents firsthand, as we focused on training our teams, and organizing our shop.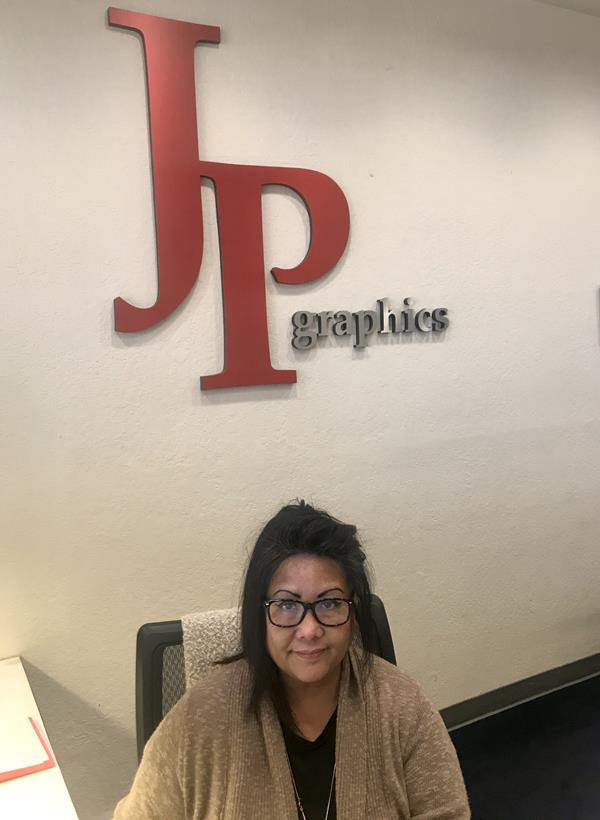 Her get it done attitude allowed her to manage the front office, which included accounting, receivables, and take on our Human Resources and payroll functions.
From day one, you could see a transformation at our office.  Michelle created relationships with our vendors for payments and with our customers for collections. She has closely monitored the cash flow throughout the pandemic, while ensuring we remained compliant from a HR standpoint.  Thanks to her organizational skills, any required trainings were completed by the entire staff before their deadlines!
Michelle took on the complicated payroll, and tracked which employees were on reduced hours and which qualified for full time.  She also became our point of contact for completing Employment Verification requests for employees that were moving or getting loans.  Plus, she tackled QuickBooks to get our bank accounts online!
Michelle's contributions were noted by the managers as follows:
"Michelle has taken the pressure off me, and allowed me to work on the COVID regulations, loans, and sales to help fill the gaps." ~ Joan
"The filing system is working better now that everyone is filing correctly, and it's much easier to find the newer jobs." ~ Debbie
"Michelle always works hard, never complains, and gets any miscellaneous supplies whenever we need them." ~ Norbi
"She makes sure the candy in the office is always stocked. (a tradition Joan's mom started from the beginning)  Plus, thanks to Michelle, all of our billings with Xerox, HP, MGI, Cannon and Oki are kept up to date." ~ Dave
"Michelle just takes care of anything you ask of her.  You never have to follow-up a second time." ~ Miguel and Joe
Thank you, Michelle, for stepping up in your new roles and helping us navigate the complexities of the ever-changing COVID regulations and requirements.  We would be lost without you!

Map loading, please wait ...
JP Graphics, a full-service printing company, is certified woman-owned and a small business by the state of California and is a Bay Area Green Company. Located at 3310 Woodward Ave, Santa Clara, CA 95054, our 33,000 sq. ft. facility houses a state of the art prepress department, numerous offset and digital presses, a complete bindery, including lamination, and diecutting. Additional services include fulfilment, large format, and mailing. We deliver all over the Bay Area and ship all over the world.