Meet Freddie – JP Graphics January Employee of the Month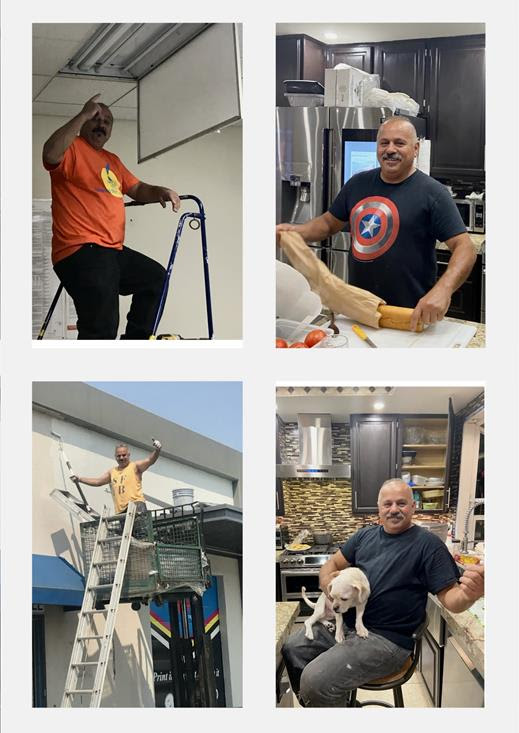 Freddy seems to always win the Employee of the Month on his birthday month in January, and this year was no exception.
Freddy helped so much with the company party in December, however it was all the changes in 2022 that have made Freddy stand out again in January.
Supply chain issues created a paper shortage, and Freddy has been instrumental in making room to store paper for our jobs once we are able to get some in.
This January we added more medical fulfillment stores and Freddy made shelving and room for the extra supplies needed to quickly fulfill their orders.
We also were able to get two used Kluge die-cutter printing presses with foil & embossing capabilities! When they arrived, they were not packed well, and only Freddy could figure out how to get them off the truck and assembled correctly.  He made room to put them on the shop floor, ran the power to them, and put grease pans underneath them, all while keeping the shop looking organized.
When a tenant left our building, we decided to repurpose the space.  Freddy has cleaned out and carpeted the area and is now having the flooring installed to create an inviting space for our Idyll Time Wine Store and new event planning center!  Which will help us showcase how everything is better with print!
Working at JP Graphics is Freddy's 2nd job, and we are so fortunate that he just loves to work!  Whenever there is an issue that needs solving, we call Freddy first.  Here are a few comments from the Management Team:
"I choose Freddy because he helped get the new Xanté unpacked.  He fixes the air conditioning and organizes everything, so it is neat and orderly." – Dave
"Freddy is great.  I can just call him and tell him what I need, and he will go to Home Depot or Grainger to pick up supplies.  He will often just custom fix with some extra supplies he has on hand.  Freddy is always saving the company money." – Norbi
"

Freddie

 will do the simplest of tasks, like putting away the accounting, or hanging a clock.  He also helps up the Employee of the Month boards updated too." – Michele
Joe and Debbie both agreed "Freddy is quick like a gazelle, and always has a solution."
"I tell everyone 'Just call Freddy' when something needs to be done.  Freddy takes a huge weight off my shoulders, so I can focus on running the business.  We often bounce ideas off of each other when I am here on the weekends.  Especially as I work on having Idyll Time Wines and JP Graphics under the same roof." – Joan
SoHappy January Birthday Freddie, and congratulations on your selection as our first Employee of the Month for 2022. Thank you for taking such good care of us.

Map loading, please wait ...
JP Graphics, a full-service printing company, is certified woman-owned and a small business by the state of California and is a Bay Area Green Company. Located at 3310 Woodward Ave, Santa Clara, CA 95054, our 33,000 sq. ft. facility houses a state of the art prepress department, numerous offset and digital presses, a complete bindery, including lamination, and diecutting. Additional services include fulfilment, large format, and mailing. We deliver all over the Bay Area and ship all over the world.