Meet Mark Stovall – JP Graphics Employee of the Month
If the pandemic taught us anything, it was how to be resilient and evolve to accommodate a changing work environment.  We used the time to cross train the staff, service our equipment, and employ some of the machines we had that had been underutilized.  The Xanté Excelagraphix was one of those machines. The employee that mastered it, Mark Stovall, was the reason why he was chosen as the Employee of the Month for April 2022.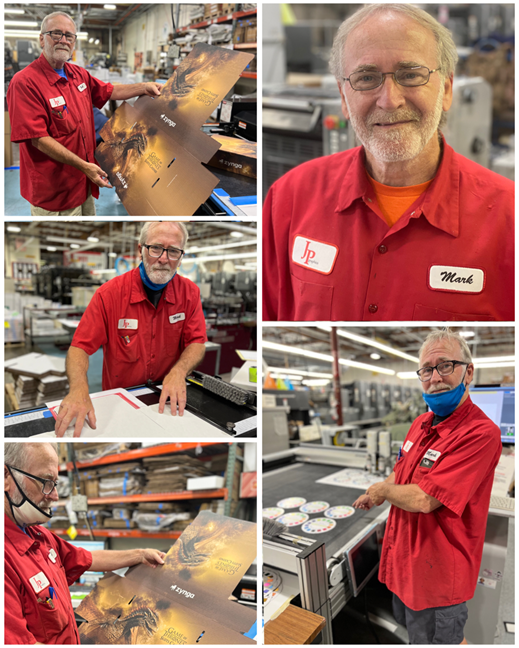 Mark is a Master Craftsman and really understands ink on paper. He began working for JP Graphics, running a 2-color Ryobi Press, in November of 2014.  He has perfect registration on print so that anything can be foiled or embossed with complete accuracy afterwards.
When we asked him to learn how to operate the Xanté after Rodney moved back to Japan, he said "he would give it a try".  Mark not only tried but has exceeded all expectations of what that machine can do.  The machine prints directly onto corrugated material and boxes, and when Mark sees an opportunity for improvement he performs "a little trick" to make the boxes perfect, as he cannot let anything go out that is below his standards! When the product and promotional companies started seeing what we could do, the quest for the most amazing box print and overprint began, and we found ourselves creating Baby Shower box kits, Bunco box kits, Admin Award Gala Boxes, Zoom party kits, and more.
Mark is busy all day, every day, working two presses, helping to file plates, mixing inks, and assisting in any way he can to get the most production in a day.  Mark continues to be the reason we thrive, helping us to do more and more unique things that no one else in the Bay Area can do.  You can see it in the comments that the Managers made:
"Mark has done a 'Gazillion' Xanté jobs. Plus, he works on other presses and helps bindery to get the jobs shipped on time." ~ Miguel
"We did 11 box orders this month alone.  With the highest volume!  The boxes look AMAZING. Mark is a master, and the videos come out great, all while filing, gumming plates and doing all the other offset press functions." ~ Joe
"Mark is doing a Ton of Boxes. He always checks to make sure they are perfect. His quality is bar none, and he is so helpful to everyone." ~ Debbie
"He is the Employee of the Month because he is a team player. When Mark sees I am busy, he will come and help clean and organize. He works well with everyone, and he never complains." ~ Norbi
"I bought this Xanté four years ago, however, we never really ran it, until this opportunity of home mailings came.  Once Mark got on the machine, it has never performed better. I cannot believe the amazing prints that Mark has produced! Even the folks at Xanté cannot believe what we're doing. The turn time is unreal because Mark is so proficient at it.  The Xanté machine is a real game changer for packaging and prototypes, and no one else in the area has it, but us!"  ~ Joan
Thank you, Mark, for your eye for color and your dedication to print. You are not only a great worker, but a great person too, and we are so lucky to have you on our team!
Map loading, please wait ...
JP Graphics, a full-service printing company, is certified woman-owned and a small business by the state of California and is a Bay Area Green Company. Located at 3310 Woodward Ave, Santa Clara, CA 95054, our 33,000 sq. ft. facility houses a state of the art prepress department, numerous offset and digital presses, a complete bindery, including lamination, and diecutting. Additional services include fulfilment, large format, and mailing. We deliver all over the Bay Area and ship all over the world.