Meet Debbie Rainwater – JP Graphics Employee of the Month
It was by unanimous decision that our March Employee of the Month should go to Debbie Rainwater! 
Debbie has worked at JP Graphics as a Customer Service Representative (CSR) since March of 2014.
Her role as makes her an expert at writing up job tickets and getting things into production. She is also the main point of contact that coordinates the office and orders when I'm out of the office.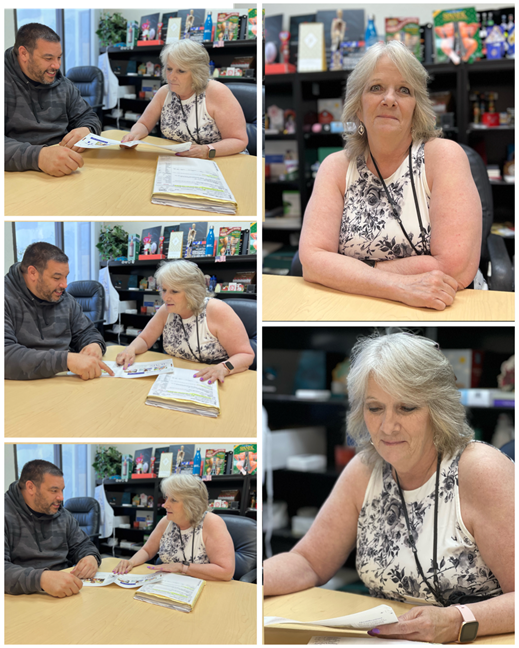 Debbie previously worked for some of the larger print shops in the Bay Area prior to coming to JP Graphics. However, it was here that she gained a new perspective on print.  As we are not just a high-volume ink on paper printer, but a very diverse and unique print shop with digital and offset capabilities, complete bindery, and pioneering machines that do stunning digital embellishments including Sleeking and Dimensional UV coatings.
Debbie is beyond proficient in customer service and writing up jobs, getting them into production, and following up.  However, the increased workload of the JP Graphics teams eventually put more demands on her. She has learned to generate pricing, develop layouts, and to identify which machines are best suited for a particular job.  All skills that are crucial when Joan is away at a conference or event.
When the other CSR is out on leave, EVERYTHING falls onto Debbie to get it done.  Debbie works closely with our entire production staff to take care of our numerous jobs.  So, when I left for a conference the first week of March, Debbie took it all in stride, coming early, staying late, addressing my 'Out of Office' emails, and any processing additional jobs I forwarded, when I logged in. There was no question which employee stood out as deserving the Employee of the Month nomination.
You can tell how valuable Debbie's support is from the comments from the managers:
 "Debbie is ALWAYS available to answer questions. Plus, she always says yes to help when it's requested of her." ~ Norbi
"She always gives you a "heads up" on the projects that are coming, so we can keep production going.  Plus, Debbie's dockets are easy to read and have all the information you need on them." ~ Joe
"If prepress needs something, Debbie gets it and keeps the production going strong, so we're always on-time." ~ Dave
"Debbie is the only person that can handle all of the jobs and help with calls or visitors when Joan is not here." ~ Michele
"Her dockets are impeccable.  Debbie fills out the Delivery Memos and has the answers for any questions I have. She just makes my job easier!" ~ Miguel
"There is such a nice feeling knowing that I can leave, and that someone is there to 'Catch it ALL'.  Debbie is always willing to help, and more importantly always willing to learn, which is the BEST trait of all!" ~ Joan
Debbie states "This job is challenging, juggling so many duties!  But I love it because it's always new and exciting!"
We're glad you love your job, Debbie; it shows in the exemplary service you provide to your internal and external customers.  Thank you for all you do to keep our clients happy and our order process running smoothly.  Keep up the great work!