Meet Kimchi Nguyen – JP Graphics Employee of the Month
Congratulations to our June 2021 Employee of the Month, Kimchi Nguyen!
Kimchi began working for JP Graphics in August of 2016.  She came to us after the consolidation of Far Western Graphics, so she was well versed in the bindery department and had knowledge of some equipment that we would later acquire, including the Scott-Precision Tabbing Machine.
Kimchi is the ultimate "anything she can do to help" person.  She has such a great attitude and is always smiling.  She often comes to work bringing food to share, and she helps out in whatever capacity she is needed, often coming in on weekends to help get the job done.
Kimchi is fast and proficient at hand bindery, specialty glueing, and folding.  Her attention to detail and meticulous work is needed for all of the medical/pharmaceutical work we do. Her work is flawless, and her counts are spot on.
Kimchi is the ultimate team player and always reliable. You could not ask for a better employee.  Comments from the Managers include:
"Kimchi is the best. She is very fast, and always helps with boxing or anything we need to help get the drivers on their way." ~ Miguel
"No matter what the task is for the day, Kimchi takes it on with a smile and a can-do attitude.   She is always happy to do whatever is needed." ~ Norbi
"Kimchi is great at helping get the jobs finished so we can deliver on time." ~ Debbie
"Kimchi is ALWAYS smiling.  She is great with the laminator, and her quality is A-1!" ~ Joe
"We are so lucky to have Kimchi at JP Graphics. She is wonderful, and a beautiful person inside and out.  She contributes to conversations about work, and is so appreciative.  She also has a green thumb, and her orchids are a gorgeous pop of color and natural beauty in our bindery department." ~ Joan
Thank you Kimchi, for sharing your amazing talents with us every day.  We are so glad to have you a part of the JP Graphics family.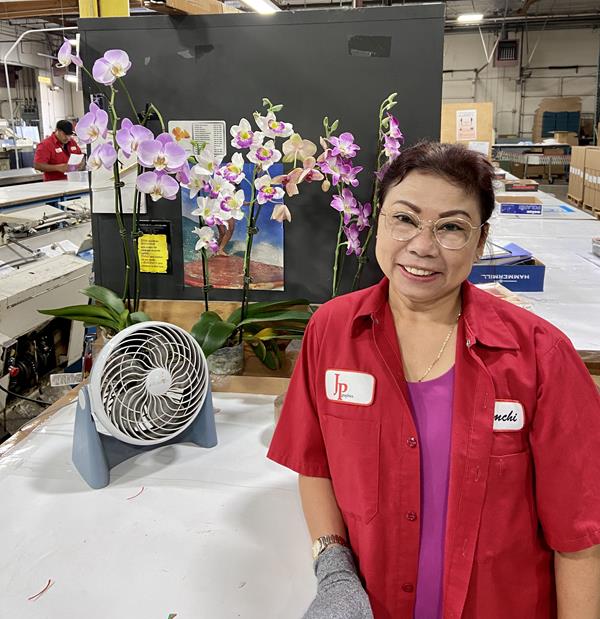 Meet Kimchi in person as she discusses her work at JP Graphics with our summer interns Jacob and Lissette.
Map loading, please wait ...
JP Graphics, a full-service printing company, is certified woman-owned and a small business by the state of California and is a Bay Area Green Company. Located at 3310 Woodward Ave, Santa Clara, CA 95054, our 33,000 sq. ft. facility houses a state of the art prepress department, numerous offset and digital presses, a complete bindery, including lamination, and diecutting. Additional services include fulfilment, large format, and mailing. We deliver all over the Bay Area and ship all over the world.