Meet Julio Mendez – JP Graphics Employee of the Month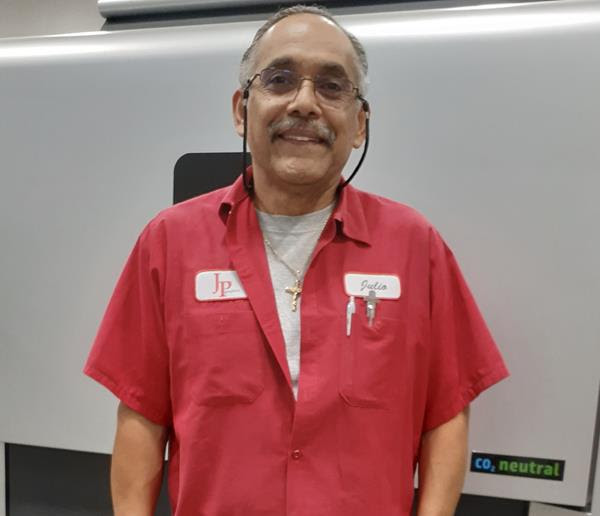 This month's employee is a 2-time winner… Julio Mendez.
Julio has worked at JP Graphics since 11/30/2015, and he is one of the most dedicated employees here. He has transformed our Digital Department, to be one of the most revered in the Valley.
Julio has been running the HP Indigo 10000 since its inception, and we have continued to add on more features to use in conjunction with the HP.  Most notably the
Nobelus
Sleeker and the Duplo Dimensional UV Coater.  As you saw from the Amazing White Paper that was done on JP by 
Nobelus
. Julio has learned the machinery so well, that even Nobelus is asking us for information as they interact with HP on the useage of the machine, and we've produced some gorgeous pieces for Nobelus to use at the various Print Shows!
Here are some of the comments from the managers:
Julio is always here, stays late, and gets the job done right.
He is constantly learning and tries new things – even all the crazy applications that are asked of him.
He always verifies his work, checking it with the Customer Service Representatives (CSRs), Sales, and Bindery to ensure that jobs are done correct and in a timely manner
Julio's calm demeanor and dedication, has made him a VITAL part of this organization. He takes care of his machines meticulously and has some of the Best "Uptime" in the HP Series 4 world.  He fixes the machine when problems arise and MOST importantly, understands the job so well, that he does the work in the order it should be done, so that work is done on time.
We are sooo lucky to have him on our team.  Thanks Julio for all you do!
Map loading, please wait ...
JP Graphics, a full-service printing company, is certified woman-owned and a small business by the state of California and is a Bay Area Green Company. Located at 3310 Woodward Ave, Santa Clara, CA 95054, our 33,000 sq. ft. facility houses a state of the art prepress department, numerous offset and digital presses, a complete bindery, including lamination, and diecutting. Additional services include fulfilment, large format, and mailing. We deliver all over the Bay Area and ship all over the world.