Meet Claudia Rubio – JP Graphics Latest Employee of the Month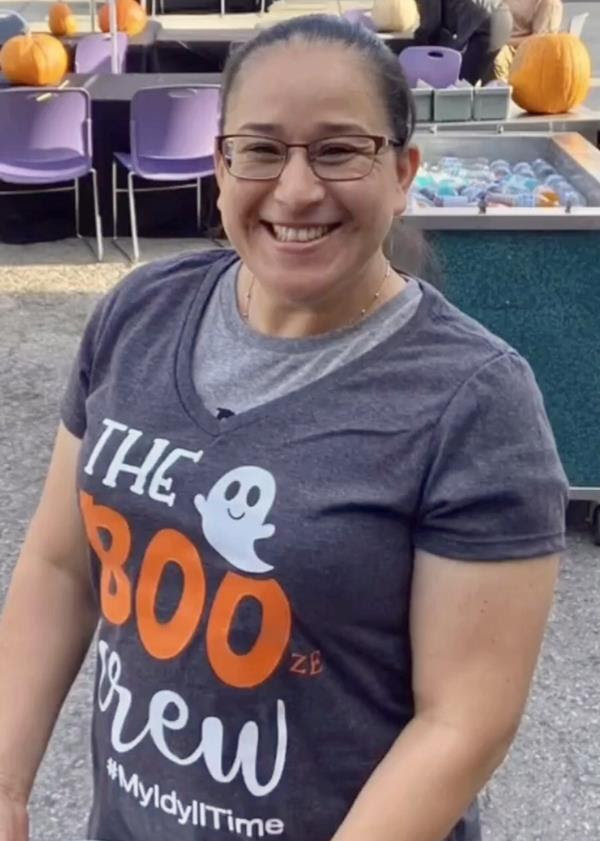 Before the pandemic our sales team spent a lot of their time supporting trade shows and sporting events. COVID and a slow return to pre-pandemic in-person events has required us to shift our direction to supporting online meetings, virtual shows, and a new client base.
This shift has allowed us to refine our expertise and expand our focus to delivering high-quality, quick turn, eco-friendly print products and packaging with a comprehensive range of finishes and embellishments!
This March we wanted to showcase the incredible work of Claudia Rubio – our go-to authority on all things FINISHING! She has worked here since 2003 and is undoubtedly one of the most diligent and meticulous employees on our team, consistently exceeding expectations and setting new standards for excellence.
Throughout the years, Claudia has been the one to task with the training of the new equipment. From the Horizon Perfect Binder to the Skandacor Production Laminator to the Letterpress Score and Fold. She is now being called upon to help in the mailing department, making sure the jobs transition from print to mail as seamlessly as possible.
As the bindery department grew with our die-cut and glue capabilities, the Bindery Manager, Norbi, was pulled in too many directions. So, we decided to elevate Claudia to the bindery Crew Chief. The person that relegates the duties and makes sure the jobs get done.  In this role, she also handles the supply ordering, from boxes for packaging, to glues, staples, and tape.  She attends all the morning production meetings and makes sure that the requirements from the meeting are met, putting the people in the right places, and coordinating with the other departments to make sure the products are completed at the highest of standards.
Then there is Idyll Time Wines, who would not be where it is today without Claudia.  She meticulously applies the labels, stocks the wine store, helps with the coordination of sales, and packs out all our new collections.  She often comes in on weekends or stays after hours to take on this extra role.  Claudia steps up for these tasks, which are seemingly overwhelming, and yet she accomplishes everything,
You can see what an absolute invaluable employee Claudia is, just from the comments from ALL the managers:
"Claudia works too hard.  She has been the right-hand person in bindery and keeps the quality standards so high.  As she takes on the job of Crew Chief, she shows she could truly run this department with her knowledge of bindery.  I could not accomplish what we do without her." ~ Norbi
"She is so efficient, and meticulous about her work. Claudia always asks questions if there are any to make sure the job is done perfectly and on time." ~ Debbie
"Claudia greets everyone with a smile. She is so fast and efficient.  Once you ask her to do something, you know it will get done." ~ Joe
"She has great communication skills.  Claudia will go to the source to double check folds, paginations, or whatever else to make sure every job is done correctly." ~ Dave
"Claudia always helps everyone – employees, customers, anyone that asks. She is a ray of sunshine." ~ Michelle
"She knows where everything is.  Claudia works well with shipping, making sure everything is packed in the right box and counted correctly. She orders the right supplies, so we can make good delivery vs. shipping decisions." ~ Miguel
"Claudia is like family. She has truly grown up with this company and helped me at every turn.  From being the most reliable and efficient employee, to helping me take on the things I want to accomplish.  She helps organize and clean the shop and manages the layout and coordination of Idyll Time Wines.  In the wine shop she does it all, from labeling and foils, to packaging and charging customers. She is one of the most amazing people I have ever met, and a phenomenal mother of 3 boys, who are all as wonderful as she is.  Claudia is quite simply the definition of good people!!!" ~ Joan
Thanks to Claudia's expertise and dedication for the past 20 years, we've been able to consistently provide exceptional (and sustainable) print products and services.  Plus, our Idyll Time Wine clients now know who to thank for their next wine package! So, raise your glass to Claudia and join us in celebrating her unwavering passion for print and JP Graphics. We couldn't do it without you!

Map loading, please wait ...
JP Graphics, a full-service printing company, is certified woman-owned and a small business by the state of California and is a Bay Area Green Company. Located at 3310 Woodward Ave, Santa Clara, CA 95054, our 33,000 sq. ft. facility houses a state of the art prepress department, numerous offset and digital presses, a complete bindery, including lamination, and diecutting. Additional services include fulfilment, large format, and mailing. We deliver all over the Bay Area and ship all over the world.