Meet Mark Stovall – JP Graphics Employee of the Month
When selecting our latest Employee of the Month, Mark Stovall was an easy choice.
Mark began running the 2C Ryobi printing press at JP Graphics in November of 2014.  From day one his talents as a craftsman combined with his knowledge of print proved to be a huge asset.
By cross training on our equipment, he has become a vital contributor to the production process.
Most recently, Mark has taken over direct printing to corrugated boxes on the Xanté machine.   These capabilities have proved to be in high demand by our customers who wanted to send branded packages to their clients and employees.   As well as for socially distanced events, like this inspired Baby Shower Box.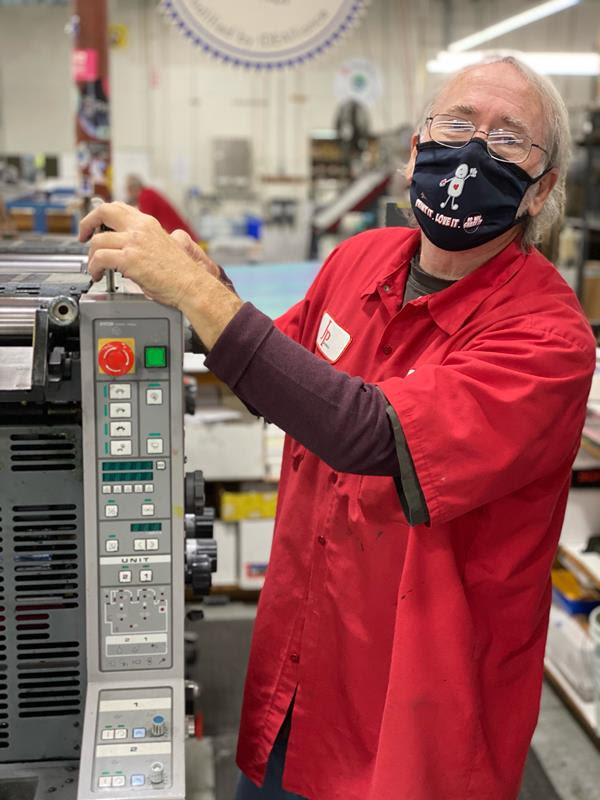 Cross training has helped Mark become proficient at the Zünd Digital Die-cutter, the paper laminator, and foil stamping.  His talents are in demand all day, as you can see from the comments from the Managers:
"Mark is stepping up helping everywhere. From gumming plates to learning the Xanté and the Zünd." ~ Joe
"He is so organized.  His area is always neat and orderly and he 'gets it' so quickly with any new task he is given." ~ Dave
"Mark helps with filing the dockets, plates, or anything we need. Plus, it's always clean and done perfectly." ~ Michelle
"When running the laminators, Mark always cleans his area before and after production, and his quality is spot on." ~ Norbi
"Mark's passion for print quality is evident.  He is always looking to help, whether organizing, cross training, filing, or teaching." ~ Debbie
"Our ROI has greatly improved thanks to the jobs Mark runs on the Xanté every day.  His workmanship and knowledge are the reason JP Graphics is experiencing success during the downturn."  ~ Joan
Thanks Mark for helping us differentiate from our print competition.  We are so lucky to have you on our team!
Map loading, please wait ...
JP Graphics, a full-service printing company, is certified woman-owned and a small business by the state of California and is a Bay Area Green Company. Located at 3310 Woodward Ave, Santa Clara, CA 95054, our 33,000 sq. ft. facility houses a state of the art prepress department, numerous offset and digital presses, a complete bindery, including lamination, and diecutting. Additional services include fulfilment, large format, and mailing. We deliver all over the Bay Area and ship all over the world.