Meet Claudia Rubio – JP Graphics Employee of the Month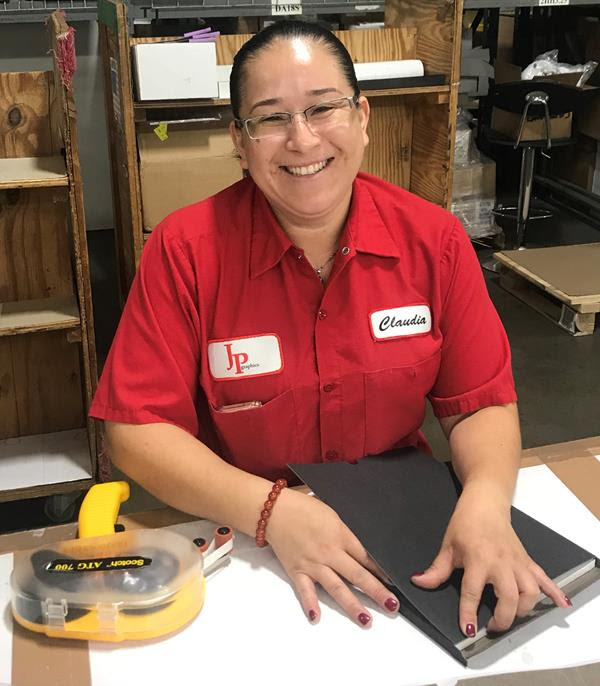 For the month of February 2020, it was decided that Claudia Rubio would get the nod as our Employee of the Month.
Claudia has worked at JP Graphics since April of 2003, and is literally mentioned at every senior staff meeting as a possible candidate.  She is the IDEAL employee and is dedicated to JP Graphics through and through.
Her commitment to the betterment and quality of the organization is evident in the comments from our managers:
Claudia, even with her own family pressures, will stay late and do whatever it takes to get a job out on time.  She has been known to even come back to work after picking up her kids and help on those needed RUSH projects.
There are a lot of pressures in Bindery, but Claudia always makes the time to check the quality of the finishing and does things in the order that will achieve the completion of the project on time.
She works VERY well with Shipping Department too.  Knowing the times of UPS and FedEx, or taking into account when the drivers must leave.  She is well respected by all the staff, and takes the time to show how to get jobs completed more efficiently.
Claudia is dedicated… to her children AND her JP Family.  She is willing to do whatever is needed to get a job done, even if it is not in her control, she will follow through to make sure it finishes to perfection.
Claudia's willingness to learn, has made her incredibly valuable, knowing how to set-up all the equipment – folders, stitchers, perfect binders, gluers – and asking to learn any new equipment too.  Her vast knowledge of print and finishing has made even the toughest jobs come out well, and thanks to our equipment, JP Graphics does a lot of tough jobs and specialty work!!
JP Graphics is LUCKY to have such a dedicated and talented employee, and for this, she will continue to be nominated every month without fail.
Map loading, please wait ...
JP Graphics, a full-service printing company, is certified woman-owned and a small business by the state of California and is a Bay Area Green Company. Located at 3310 Woodward Ave, Santa Clara, CA 95054, our 33,000 sq. ft. facility houses a state of the art prepress department, numerous offset and digital presses, a complete bindery, including lamination, and diecutting. Additional services include fulfilment, large format, and mailing. We deliver all over the Bay Area and ship all over the world.