Meet Claudia Rubio – JP Graphics Employee of the Month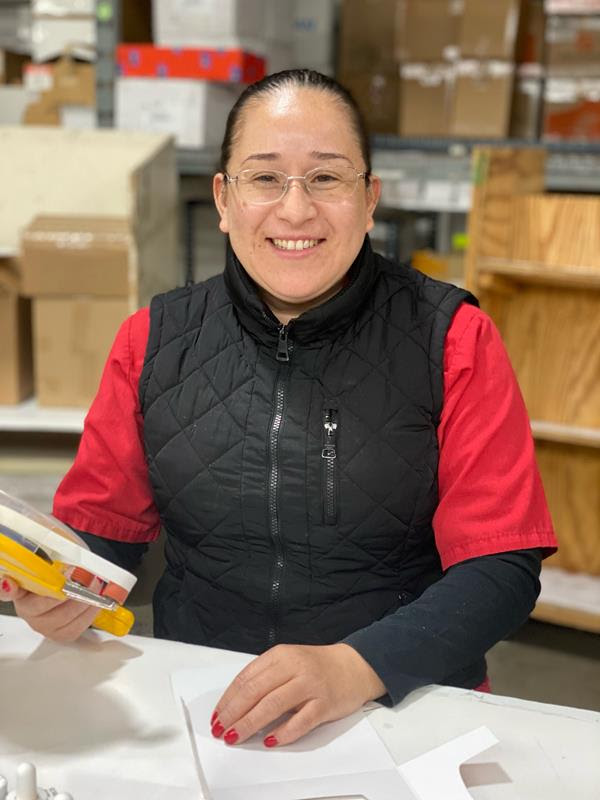 March is International Women's Month, and what a better way to celebrate than by announcing our first 2021 Employee of the Month, Claudia Rubio!
Claudia has worked for JP Graphics almost 18 years, and is an integral part of our bindery department.  Her knowledge of our equipment is phenomenal, and she is a great asset to our management team, always ensuring processes run smoothly and projects are completed on time.
It is Claudia's attention to detail that really helps her stand out. She quickly comprehends even the toughest projects and is not afraid to ask or communicate whenever she sees something that needs to be addressed.  Her proficiency and skills are often showcased in the videos we produce, which showcase our various assemblies and pack-outs.  Claudia makes it look easy and it is fun to watch her work. Most recently she has been instrumental in helping Joan with Idyll Time Wines and Michele with her Etsy Store, all while doing the regular bindery work.
Claudia has also taken on the supply orders for bindery, ensuring the glues, tapes, wafer seals, and other materials are on hand and ready for the jobs in the finishing department.
Our senior staff had no problem finding reasons why Claudia deserved the spotlight this January:
"Claudia's dedication to detail is admirable, her work is precise, and she takes care of everyone." ~ Debbie
"Claudia helps a lot.  She identifies what needs to be done and takes care of it, without needing to be told." ~ Norbi
"She is reliable, always staying if needed to finish jobs." ~ Joe
"Claudia helps finish the first article proofs we often make for clients." ~ Dave
"Claudia and Norbi help get my drivers on the road faster, working in tandem to prioritize what needs to be done." ~ Miguel
"Claudia has become my eyes and ears in bindery.  Providing me with counts and supplies and managing the organization of both the bindery department and our company stores.  She makes the difficult tasks in finishing look easy!" ~ Joan
Thank you, Claudia, for leading the way with a smile.  We would be lost without your organizational skills and teamwork, and we are glad you are a part of the JP Graphics family.

Map loading, please wait ...
JP Graphics, a full-service printing company, is certified woman-owned and a small business by the state of California and is a Bay Area Green Company. Located at 3310 Woodward Ave, Santa Clara, CA 95054, our 33,000 sq. ft. facility houses a state of the art prepress department, numerous offset and digital presses, a complete bindery, including lamination, and diecutting. Additional services include fulfilment, large format, and mailing. We deliver all over the Bay Area and ship all over the world.