Meet Pauly Duong – JP Graphics Employee of the Month
Thank you Pauly for all that you do to make JP Graphics successful! From pre-press and packaging, to mailing, your ability to evolve and adapt has helped us deliver an amazing all-in-one solution for corporations and print fulfillment centers. You are an amazing asset to this company, and a wonderful addition to the JP Graphics family.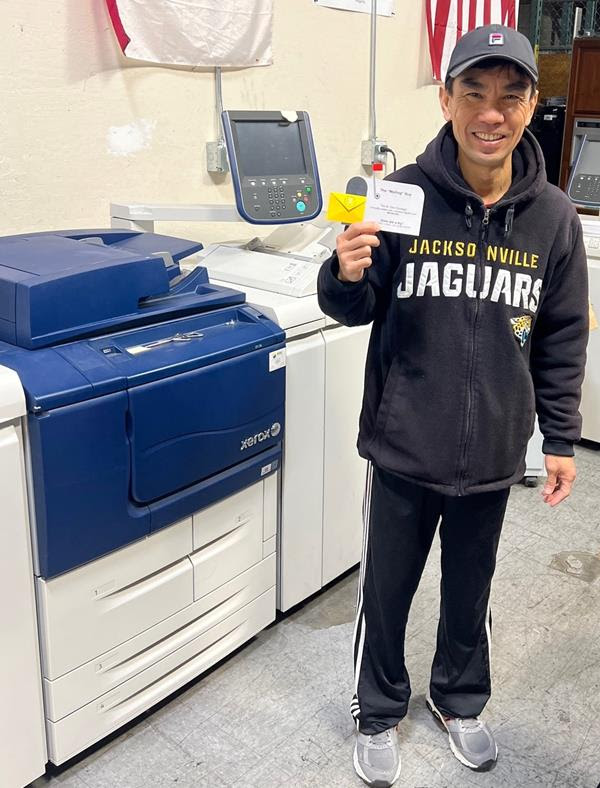 For the month of November 2022, it was almost unanimous that Pauly Duong would be our employee of the month.
Pauly started in pre-press, setting up files, making plates and doing normal prepress functions, and has been with JP Graphics since December of 2014.
He worked part time here, as he was committed full time to our amazing large format partner, InPrintz. 
As we moved more into die-cutting and gluing of packaging, Pauly learned to make die-lines.  He took on the challenge, learning the types of boxes, TTAB, STE, RTE, TTSLB, etc.  Soon if he had a base, he could make the die-line. Since Pauly knew the Zünd die-cutting machine better than anyone, he would make a prototype CAD sample on the substrate to ensure it worked perfectly before sending the die-line to the customer.
He also began to help create the giveaway packaging that we fill with chocolate and treats for sales meetings.  Pauly enjoyed figuring out how to make the pop-ups work and designing any special inserts we need for packaging.
When we added in-house mailing in 2022, bringing on Zion after the sudden passing of Chang Cho.  Pauly helped me make a cool mailbox announcement, with a flag attached with a grommet, so it could go up and down to show we do mailings.  (It was designed by Colleen, of Shanti Art Design, and so clever.)
When George Cho, the mailing manager, had to return to Korea, it was Pauly that stepped up to take on the mailing department.  Having never done mailing before, we received consulting help, and bought a new program for mail merge. But it was Pauly who got both the Santa Clara and San Jose Main post offices to help him, by giving some personalized notepads, and asking for help.
Pauly is consistently working with Tina to make sure that all of the mailing are sent on time.  Here are a few comments from the Managers:
"After George left, Pauly has been working really hard. Walking back and forth from Prepress to the Mailing area, always saying hello and smiling as he passes by." ~ Norbi
"Pauly does it all. Taking over mailing, doing CAD samples, running the Oki, the Zünd, making plates.  He is just an awesome employee." ~ Debbie
"Pauly has really stepped up.  Doing double duty, prepress, digital, and mailing. He is just a GREAT guy." ~ Joe
"Pauly is the best prepress partner I could have.  He knows the bindery machines, Aerocut and Zünd machines, and always triple checks his work to make sure it is perfect." ~ Dave
"Pauly's character is bar none – one time he even said not to pay him when he made a rare mistake.  Of course, we still paid him, but who does that?"  ~ Michelle
"Sometimes I worry that I might push too hard, but when you see the smile on Pauly's face, when an order comes in from a die-line he created, you can tell he loves what he does." ~ Joan
Map loading, please wait ...
JP Graphics, a full-service printing company, is certified woman-owned and a small business by the state of California and is a Bay Area Green Company. Located at 3310 Woodward Ave, Santa Clara, CA 95054, our 33,000 sq. ft. facility houses a state of the art prepress department, numerous offset and digital presses, a complete bindery, including lamination, and diecutting. Additional services include fulfilment, large format, and mailing. We deliver all over the Bay Area and ship all over the world.