Meet Jonathan Barrientos – JP Graphics Employee of the Month
It is with incredible exuberance that we announce the Employee of the Month for February 2022.  Meet our newest and youngest employee, Jonathan Barrientos.
Jonathan began working at JP Graphics in January 2022, as an employee referral.  Norbi had been looking for someone to help in Bindery to expand the die-cutting and gluing department, and Jonathan was a perfect fit for the job.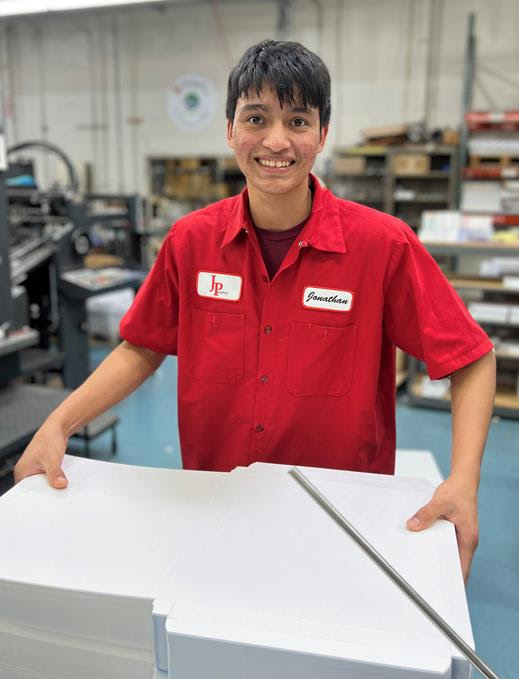 Norbi began to train Jonathan, to ensure he has an understanding of each machine's capabilities, including the fundamentals. Jonathan now understands how to care for the machines, how to check the specifications, and to always double check your work.  This is especially important for the printing and packaging we do for medical and pharmaceutical companies. These highly regulated jobs require meeting stringent quality standards, engineering specifications, and ISO protocols.  Bindery is the final stop for these projects and our last opportunity to confirm the product meets our customer requirements before it leaves the building.  Norbi's high expectations of quality and attention to detail, makes him a perfect mentor for Jonathan who is a talented, bright student, that likes machines.
Jonathan learned the job aspects quickly and has begun to set-up the Moll folder gluer on his own.  He checks his work, and in doing so, gives Norbi more time to manage his growing department.  We love seeing Jonathan working with a smile as you walk through the plant. (As seen in the video below)
The comments from the managers are a great reflection of Jonathan's contributions:
"Jonathan has really stepped up.  He is clean and neat and is always working." ~ Joe
"He is so beneficial to Norbi, the bindery department just 'Gets it done!'" ~ Debbie
"Jonathan is a very good, and smart guy. I need to train him on the cutter and then 'I COULD RETIRE!'" ~ Norbi
"His smile is proof that printing is a great career and working here is fun and rewarding.  I put a lot of pressure on the staff to 'find their replacements', so they can go on vacation or eventually retire. Knowing Jonathan is trained by Norbi assures me that the machinery and quality products we produce will endure for a long time." ~ Joan
Congratulations, Jonathan, on behalf of all our employees. We are glad you chose print and are excited about the fresh perspectives and positive attitude you bring to our JP family.

Map loading, please wait ...
JP Graphics, a full-service printing company, is certified woman-owned and a small business by the state of California and is a Bay Area Green Company. Located at 3310 Woodward Ave, Santa Clara, CA 95054, our 33,000 sq. ft. facility houses a state of the art prepress department, numerous offset and digital presses, a complete bindery, including lamination, and diecutting. Additional services include fulfilment, large format, and mailing. We deliver all over the Bay Area and ship all over the world.