With all the cross training and process implementation that occurred during COVID, what began to emerge was a work force that realized we must do more to be relevant and survive in this ever-changing economy.
We redefined what print is and how adding digital print embellishments can transform a simple piece of paper into a meaningful communication tool that digital platforms just can't replicate.
As we began to expand our digital print capabilities and embellishments, we quickly saw the advantage of combining the "Old World" of print with the new digital age. This has become our "Secret Sauce".   The way we can take a piece of paper and cut it into any shape and then add soft touch lamination to create a luxurious high-end feel, or elevate flat images with dimensional UV, to create textures that make the image pop both visually and tactilely.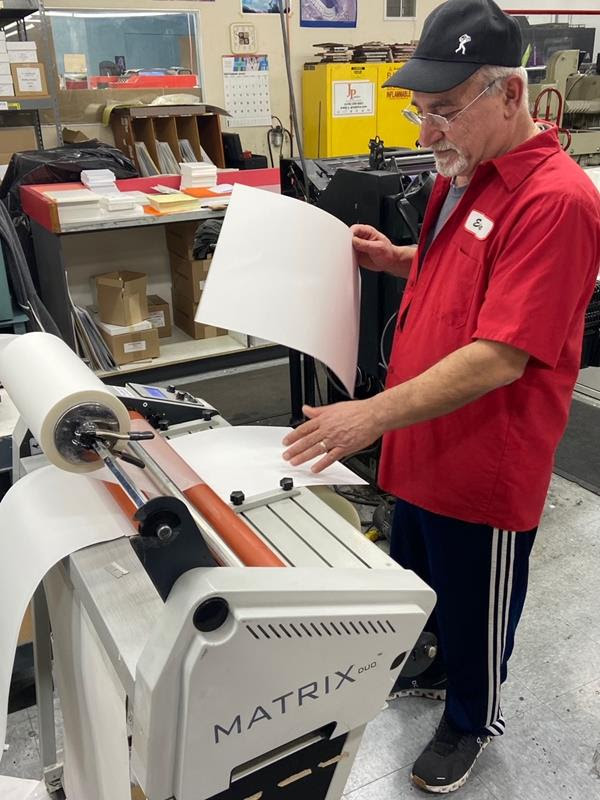 As the work coming off the digital presses began piling up and creating a backlog for bindery, it became apparent that we needed a solution to alleviate the pressure of finishing these small run, quick turn projects.
When we asked Eddie Kako to find ways to keep these finishing tasks in the department that created the prints, he not only found a way to accomplish the task, he took it to another level by implementing a digital bindery.
Which is why it makes perfect sense Eddie is our February Employee of the Month.
Eddie began working for JP Graphics in September of 2013, as a pressman on our AB-Dick Presses.  He had been in the print industry his whole life, and so the usual business cards, letterhead, envelopes, and NCR (No Carbon Required) forms were easy.  In fact, he often ran more jobs in one day than any other pressman.   Once asked, it wasn't long before Eddie was running his own finishing operation!
You can see from the comments from the managers how this has helped the team and production.
"He is so helpful getting the jobs ready to ship out every day.  Packaging up, so all I have to do is make the delivery memo and labels.  Plus, Eddie always checks in with me to see what needs to be done for shipping the next day.  It's wonderful." ~ Miguel
"Eddie is willing to learn and now operates the press, the cutter, the laminator.  He also helps Julio with sleeking on the Nobelus and Mary on the Aerocut.  He is the 'Eddie of All Trades'!" ~ Joe
"He never complains when you ask him to do something.  If a business card is due the same day, Eddie will make sure it is printed, cut, and brought up front to me." ~ Debbie
"Eddie helps Julio a lot and watches his machines, so Julio can take his lunch.  He works hard to keep production going without bottlenecks." ~ Dave
"I knew Eddie had all the talents, he just needed to be asked, because he is such a good guy, and never wants to step on any toes.  But once asked, he excelled at it all!  It's so fun to see him smile every time I come out and ask him for anything. Even cleaning up and organizing.  My latest ask is for him to train a new generation of print specialists.  As he is a true Craftsman in this industry!" ~ Joan
Thank you, Eddie! Your passion for print shows in all you do. Once again, proving that Everything is better with Print!