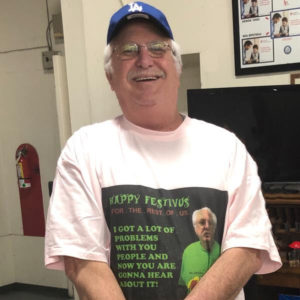 Meet our October Employee of the Month, Bill Grizzle! Bill has been with JP Graphics since September 2011.
Prior to joining our team, Bill was a production coordinator.  He quickly became our Customer Serivce Rep and is now our amazing PROMO GUY!
Bill is an ultimate team player, on any given day you may find him dropping off a delivery, fulfilling store orders, and/or handling high-end clients.  Bill also represents  JP Graphics at various Chamber and non-profit functions. He has been a steadfast presence here, and rarely takes a day off work.  (Unless it's for his other passion, bowling. )
When JP Graphics sponsors an event, Bill coordinates and brings all of the promo items we need to help make the event a success!   With client venues, such as: Trudy's Bridal, the SVO Chamber Pac BBQ, and Sean's K-9 Luau, Bill knows just the right item to make it memorable.
Bill's fun-loving personality is infectious.  He is  always reminiscing "once you get into this business, you can't get out".  The epitome of morale boosting, Bill has a Seinfeld joke to make light of any situation!  We are thinking of celebrating Festivus here at JP one year because of Bill!!!
As we began to transition into Promotional Sales, it was Bill that helped orchestrate the ASI (Advertising Speciality Institute) license and our web store.  Bill also coordinates our  in-house personalized T-shirt printer, helping produce custom shirts, aprons, towels, and other textiles to fulfill our clients orders!  (He proudly wore the Festivus shirt we printed for him at our Christmas Party!)
Bill is the perfect person to assist our customers when ordering branded pens and bags, shirts and stamps, stress balls and paper weights.  Want to get something unique? Rest assured, Bill has a source!
Thank you Bill for making JP Graphics a great place to work, and helping our clients get their brand noticed through some fun promotional products and custom apparel!  We're so glad you're a part of our team!