Meet Jesus Velasquez – JP Graphics Employee of the Month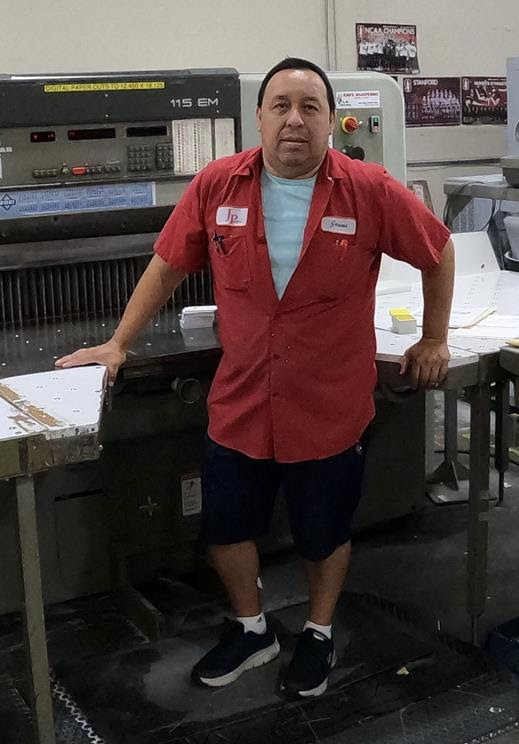 For the month of May 2021, the Employee of the Month, was Jesus Velasquez.  Jesus began working at JP Graphics in January of 2019 after the consolidation of his previous print shop.
Jesus has been in the printing industry for many years, and came at a fortunate time, as we were just starting to get our die-cut and gluing operations into full swing.  Norbi, our Bindery Manager, was focusing on learning the folder-gluers and needed help in the cutting department.
Jesus was familiar with cutting but didn't realize the magnitude of various cuts from all different aspects. Digital and offset was in high swing, sending constant work to bindery to be finished.  Precision was key, as ALL must be cut correctly to finish properly. Additionally, we require pre-cutting of 24 pt stocks to get to the presses, which need perfect back trims so there are no issues feeding the presses.  The guillotines of the cutting machine make the job look easy, but it is Jesus' knowledge and skill programming, cutting, stocking, and feeding the large reams that make the jobs flow smoothly!
While all of the managers agreed, no one summed it up better than his direct manager, Norbi:
"Jesus cuts A LOT of paper.  He is busy all day.  I give him the tasks and put a lot of pressure on him, but he never complains and is always very happy."  ~ Norbi
"Thanks to Jesus, we are never waiting on papers to be cut.  Whenever I take the papers to him to cut for press production, Jesus gets them cut right away. Plus, the pressman love the way he back trims to get a nice straight edge for feeding. "  ~ Joe
"Jesus helps a lot with shipping. He cuts in a hurry if a driver is waiting to leave for a job. He is very pleasant. You can count on him and he does it with such a GREAT attitude." ~ Miguel
"I learned a lot just talking to Jesus about his previous companies and assured him that no one beats a JP Graphics Holiday party! I enjoy his perspective on print, his reliability – working late or weekends whenever needed, and his positive attitude.  I feel fortunate to have so many loyal, amazing employees here like Jesus as part of our team." ~ Joan
Thank you, Jesus, for making the job look so easy, and in turn helping us look good in the process!

Map loading, please wait ...
JP Graphics, a full-service printing company, is certified woman-owned and a small business by the state of California and is a Bay Area Green Company. Located at 3310 Woodward Ave, Santa Clara, CA 95054, our 33,000 sq. ft. facility houses a state of the art prepress department, numerous offset and digital presses, a complete bindery, including lamination, and diecutting. Additional services include fulfilment, large format, and mailing. We deliver all over the Bay Area and ship all over the world.