JP Graphics is a proud Carlson Craft™® Retailer.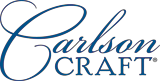 When you want to make a big impression with your wedding invitation, you might think you have to go overboard with the design. After all, having great invitations can really make the difference and get your guests excited about your upcoming special day. But it's really the unexpected details that catch guests" attention and make the biggest impact. Impressive details include gold foil stamping, ink color that coordinates with your wedding or a lined inner envelope.
A proper event requires thoughtful planning and can include pieces like save the date's, RSVP and thank you cards. At JP Graphics in Santa Clara we have a team of graphic designers, print professionals, and a great customer service team to work with you from start to finish on your invitations, including mailing!
Shop all invitations from the Carlson Craft line then contact us for your 10% Discount on Wedding Invitations.
More about our wedding invitation printing services.